LoneWolfDS - Fire On The Water
From GameBrew
LoneWolfDS - Fire On The Water
General
Author
Frédéric Calendini (Michoko)
Last Updated
2010/07/05
Type
Adventure
Version
1.51
License
Mixed
Links
Download
Website
LoneWolf DS is a gamebook for the NDS, a kind of interactive fiction/choose your own adventure RPG. They were novels which had a nice success during the 80's, and which were allowing the readers to choose their own path by jumping from one numbered section to another, with other nice ideas which were the precursors of what we find today in role playing video games.F. Calendini used the work from the Aon Project to adapt a Lone Wolf gamebook to the DS.
The philosophy behind the port of the Lone Wolf books to the DS is to let the console handle all the rules related to combats, stats and so on, so the player can be really immersed in the story and doesn't need to bother with the gameplay elements.
This adventure game is a conversion of the famous Lone Wolf gamebooks written by Joe Dever in the 80's (Book II from the Kai Series).
Features
Fun and interactive.
Inventory.
Enemies fights.
Random dice results.
Installation
Download and extract file.
DLDI patch it if needed (if your card does not have auto-patching) and copy it to the root directory of the card.
User guide
Gameplay
In this second installment, having informed the King of Sommerlund about the fate of the Kai Order, Lone Wolf is instructed to make a journey to their ally, the neighbouring country of Durenor, to retrieve the legendary Sommerswerd, which is Sommerlund's only hope at repelling Darklord Zagarna's massive invasion.
Your goal is to go through the book by choosing your path and actions interactively. You will have to fight enemies, collect items and gold and make your choices wisely to survive this epic journey!
Continue from previous book
You can continue your adventure from the previous book, with all your stats/items and disciplines. To do so, you first have to save a game at the very last section of the previous volume, then launch the current book and select NEW GAME. You should be offered to continue from a previous saved game.
Kai series
The complete Kai series (Book 1 to 5) has been ported to the NDS, where you follow Lone Wolf as he climbs the steps to become a Kai Lord of the Magnakai level:
You can learn more about the books and the Magnamund universe here.
Controls
Operate with Stylus.
Screenshots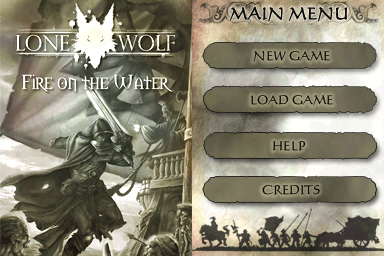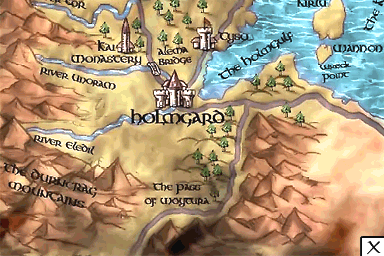 Media
LoneWolfDS Demo (Frederic French)

LoneWolfNDS (thebawp)

Compatibility
Tested and works on the following linkers:
CycloDS Evolution
R4
R6 Gold
M3 Real (works with M3 manager 3.6. If it doesn't work, try launching it via DS Organize)
M3-Lite/M3-miniSD/M3-SD
M3 Perfect
Supercard DS One
Datel Games N Music
G6 Real
Max Media Player
DSTT
AceKard 2i + AKAIO
EX4i

Changelog
v1.51 2010/07/05
Fixed a very nasty bug that didn't save some important events in the save file (ouch).
Fixed a bug when the Sommerswerd was not equipped as a weapon, but was still giving full CS bonus (thanks Aia).
Fixed a bug when the Sommerswerd was not equipped and was not detected as being in the inventory.
v1.5 2010/07/01
Recompiled with a more stable SDK and the latest version of the game engine.
v1.1 2009/02/14
Uses new EFSLib version which fixes a bug with SLOT1 + SLOT2 linkers combo.
Now when you play Portholes and a player rolls a double zero, he instantly wins.
Fixed what happened when you were losing the Arm-wrestling contest.
Fixed a bug in the Cartwheel game where 0 was not considered as next to 9.
You can now use "Right" (or "Y" in left handed mode) to show the section illustration again.
Fixed various other sections.
Adapted some illustrations to better fit the storyline.
v1.0 2008/07/12
Fixed merchants items in section #181.
Added a note in the equipment section explaining you can't own more than 50 crowns at once.
Fixed a bug which allowed to pick 3 items as your starting equipment instead of 2.
Fixed a bug in section #91 where you could pick an infinite number of meals.
If you had lost your backpack from previous book, it is now again available (your King is a generous man).
If you load a saved game from book I, your endurance is now fully restored.
Now you get the correct amount of gold when starting from a previous save.
Fixed section #12 and the handling of the Sixth Sense bonus, which was incorrect.
Added a "loading" message at launch, some people thought the game had crashed while it was just initializing.
RC1 2008/06/21
First public release candidate.
Credits
The Project Aon team, Mollusk, fincs, Noda and ThomasS, NewKuato and Urbatain El Clérigo, and everyone else who helped on this project.
External links