LMP-ng
From GameBrew
Licks Media Player
General
Author
Lucas (originally by Lick)
Last Updated
2010/03/03
Type
Media players
Version
1.02
License
GPL (open source)
Links
Download
Website
Source
LMP-ng is a music player for the Nintendo DS which looks just like Apple iPod of the extreme popularity according to the appearance (for exclusive use of the music). It is compiled with DLDI libfat support.
Features
Skinnable.
Playlists M3U.
Installation
Download and extract file.
Create folder name it lmp-ng on Micro SD.
Extract zip files to the lmp-ng folder in Micro SD.
Open lmp-ng folder and delete lmp-ng-2-alpha.ds.gba.
Note from developer:
Do not add/rename other files in the lmp-ng folder. Putting the two versions of lmp-ng on the lmp-ng folder will mess things up. Make sure the Micro SD lmp-ng folder has the followings.
Folder named skins with two zips named alternative and default.
lmp-ng-2-alpha.nds file.
User guide
MP3 files can be located anywhere on your memory card and LMP-ng will find them. This is included with acekard 2 firmware so no need to download if you have acekard 2. Use fingers or touch pen is for the most part self explanatory.
Supported formats
MP3
OGG
WAV

Custom skins
To add skins go to http://dilldoe.org/NDS.
Pick a skin on the list under skins, click on it and it will preview it on the DS.
Scroll down, click download. Then the put ZIP file on the skins folder inside the lmp-ng folder in the Micro SD.
Controls
Stylus - Part of the control
Stylus (spinning in a circle) - Adjust volume
Stylus (tap middle) - Navigate song mode
R/L - Volume up/down
L (hold)/R (hold)/Right - Navigate song
A - Next song
Y - Previous song
B - Pause
Left/X - Menu
Select - Lock the keys during play back
Start - Display messages
Screenshots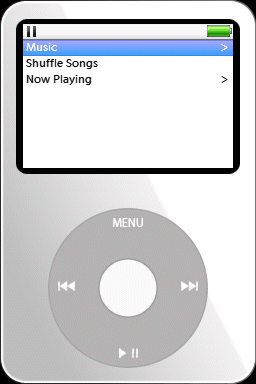 Media
Turn your Nintendo DS into an Apple iPod (Tech James)

Changelog
Version 1.02 2010/03/03
Resume the project with the permission of Lick. Much more stable.
External links