Jumpy Froggy
From GameBrew - a wiki dedicated to Video Game Homebrew.
Jumpy Froggy
General
Author(s)
Cid2Mizard, Kukulcan
Type
Puzzle
Version
0.5 Beta
Licence
Mixed
Links
Download
Website

Jumpy Froggy is a remake of the puzzle game Jump Mania on the Amstrad CPC back in 1993. It combines strategy and reflection in the movement. This is a project that Cid2Mizard developed with Kukulcan, the project is not completely finished and the game is playable with 32 levels.
Features
32 levels.
Backup DLDI.
Controls with Stylus or D-PAD.
Animation of the character and water.
The character bumps into the edge of the screen.
User guide
Control a frog and eliminate the blocks that are destructible by jumping on them. To do so you can use a certain number of jumps of different lengths.
You will also have to take into account the different types of surfaces the frog is standing on.
The goal is to remove all the destructible blocks present on the stage.
Types of surface
Lotus leaf - Sink after a single pass.
Flower - Sink after a double pass.
Rock - Solid, do not sink.
Bomb - Explode after 4 seconds.
Goal - Compulsory final stone to win.
Ice - You slide onto the next block.
Controls
Stylus - Select Options (menu), Move frog (in game)
A - Move to the right
B - Move down
Y - Move to the left
X - Move up
L/R - Hover over the size of the jumps to the left/right
Start - Back to menu
Screenshots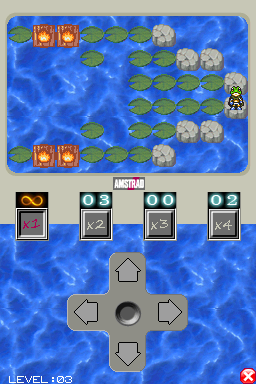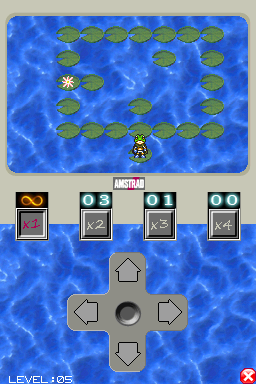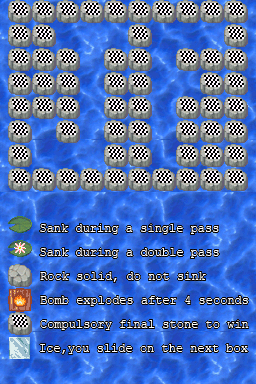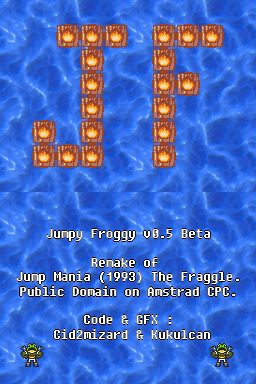 Media
Jumpy Froggy (jordi22masters)

Compatibility
Tested on NDSTT (firmware 1.17a12).
External links