Gateway 3DS microSD Tool
From GameBrew
Gateway 3DS microSD Tool
General
Author
_Tim_
Last Updated
2014/07/24
Type
ROM Managers and Patchers
Version
12
License
Mixed
Links
Download
Website
Gateway 3DS microSD Tool is a program written to fix GW3DS fragmentation errors, which can occur when:
The rom file has more than 32 fragments.
The rom file occupies either of the last two clusters on an exFAT partition.
The root directory entry is fragmented, that lead to missing game icons.
It defragments only if it is necessary. For instance, if a rom file consists of 35 fragments, this will reduce the number of fragments to 32 by combining the 4 smallest fragments into a single fragment. It is faster and introduces less wear than reformatting and copying everything back.
User guide
Available commands:
gw3ds.exe scan x: - Scan for problems (x: is the driveletter of your GW3DS microSD card).
gw3ds.exe fix x: - Fix fragmentation errors and missing game icons.
Screenshots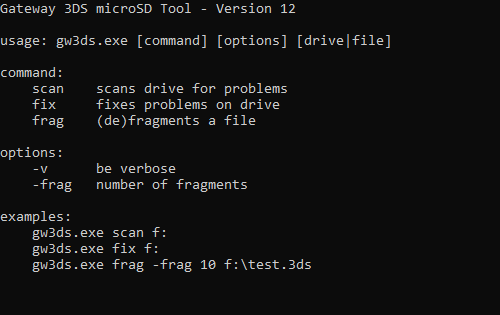 External links