FingerManiaDS
From GameBrew - a wiki dedicated to Video Game Homebrew.
FingerManiaDS
General
Author(s)
BlowBomber
Type
Music
Version
0.96
Licence
Mixed
Links
Download
Website

FingerManiaDS is a DS homebrew rhythm game similar to Dance Dance Revolution. You can create your own tracks with the editor, it also has the ability to update via WiFi.
Installation
Download and extract file.
DLDI patch FMDS Step Maker.nds and copy it to the root directory of the card.
Optional: Place mp3 that you want to make steps for on root of card and make sure its bit rate is 90 or less and the file is renamed to test.mp3.
User guide
The homebrew only includes one song, but you can add more songs following these steps:
Create the sequence of arrows in the editor.
Rename the .fmds file to same name as the .mp3 file (the song that you want to add).
Copy the .fmds file and the .mp3 file to the /FMDS/songs/ folder .
You should then be able to choose the song and play it.
Editor
Place the arrows into the four bars and adjust them you your likings.
To test it, switch screens and press the play button, it will also play back an mp3 and load a timing bar on the bottom screen to see if its in sync. Press the stop button to stop.
You can scroll the screen to place more steps if you run out of room.
The saved file will be named songarrows.fmds.
You can load data and continue from where you left off, file must be called songarrows.fmds and on the root of your card.
Controls
In game:
Stylus - Choose options (menu), Arrows (in game)
D-Pad or A/B/X/Y - Arrows
A - Select song (menu), Arrows
Editor:
Stylus - Place/clear arrow, Play/stop song
L - Set arrow in place
R - Switch screens
Up/Down - Scroll screens
Start - Save data
Select - Load data
Screenshots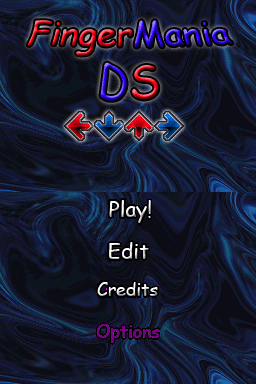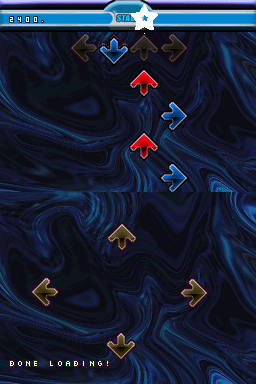 Media
FingerManiaDS (blowbomber)

Compatibility
Tested on:
DSTT/TTDS (firmware 1.17)
R4 SDHC (firmware 1.32)
SuperCard DSTWO (firmware 1.03)

Known issues
Max steps allowed to place is 950 not sure if people will use that much.
Changelog
Version 0.96
Fixed severe loading bug.
Cleaned up source a bit.
Version 0.95
Fixed mp3 loading/playback.
Fixed step loading bug.
Version 0.9
Credits
Created By BassAceGold.
Graphics By FantomRedux.
External links