FONTOOL PSP
From GameBrew
FONTOOL
General
Author
tepsicore_93
Last Updated
2009/09/01
Type
Other
Version
0.4
License
Mixed
Links
Download
Website
FONTOOL is an application that is able to change the fonts on your PSP without having a PC nearby. It can store up to 50 fonts and is programmed in C by Tepsicore_93. Available in both Spanish as well as English.
This was one of the contest entries for the Scenery Beta 2009 (PSP Applications).
Installation
Note: Flashers or features that require alterations in the flash of the device can brick your PSP. Please backup your important data accordingly and use with caution.
Copy the FONTOOL folder in the unzipped /PSP/GAME/ folder to the /PSP/GAME/ folder in the Memory Stick.
Open the FUENTES folder in the folder, and insert one PSP font (*.pgf) for each folder from FUENTE1 to FUENTE50.
The Default font file is *ltn0.pgf. It has been renamed and placed in the FUENTE folder.
User guide
Menu options
New font - Choose the font you would like to install, which you have previously placed in the folder /PSP/GAME/FONTOOL/FUENTES/.
Original font - Restore the font that comes with the PSP by default.
Change theme - Change the menu theme (blue, green).
Change language - Change the menu language.
Download font (not available in v0.4) - Can view and download source through internet.
How to use
To install font, you must place the .pgf in any of the fifty installation folders (ms0:/PSP/GAME/FONTOOL/FUENTES/FUENTE1-50), next to it you will find a txt called name.txt, modifying said txt you can assign it a name to the font that you insert in the folder where this txt is located.
Run the homebrew, choose the font you want to install. It will install the font automatically then return to the language selection menu.
If you want to use the default font, select Original source from the option.
Controls
Right/Left - Move through menu
Up/Down - Move through menu (languages, themes, etc)
Cross - Selection option
Start - Go back
Screenshots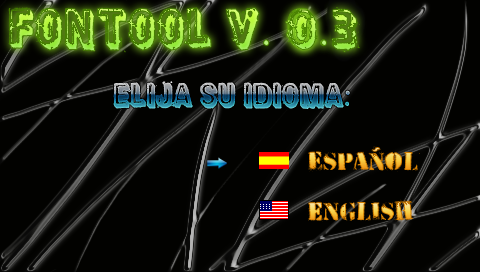 Compatibility
Works for PSP-1000/PSP-2000 with CFW5.00M33-6 or less.
Changelog
v0.4
The homebrew has been rebuilt from 0, this time in C, with the advantages that this brings.
The menus are made in the current VLF.
A new installation system has been added, with a limit of fifty fonts.
The option to update FONTOOL via Wifi has been added.
The option to download fonts has been removed
Adapted to all current CFs. Removed the two themes, green and blue, now the color is the one you have chosen in the XMB.
Credits renewed.
Improved homebrew speed.
Now it takes up much less.
Renewed ICON0, PIC1 graphics.
External links