Evelonth
From GameBrew - a wiki dedicated to Video Game Homebrew.
Evelonth
General
Author(s)
Copete23
Type
Platform
Version
0.99
Licence
Mixed
Links
Download
Website

Evelonth is a homebrew platform game for the NDS. This is a demo of the first chapter, available in Spanish and English.
Installation
Download and extract file.
DLDI patch the .ds file and copy all folders to the root directory of the card.
Note from developer:
The game automatically saves the data in evelonth.save when passing the level, or when changing the configuration, and uses the fat system, so you have to have a compatible cartridge or patch the rom. If you get an error message at the beginning, it will be for this reason.
User guide
In this story you take on the role of Raint, an inhabitant of the planet Evelonth.
Everything seems perfect until one day Evelonth is attacked by beings from another world, Earth (effectively attacked by humans) commanded by the terrible General Warlior...
Controls
Left/Right - Walk
Up/Down - Move camera to see what is above or below
A - Jump, Select, Accept
B - Kick
Y - Call Nax for help
Start - Pause
Can be used with Stylus in certain occasions.
Screenshots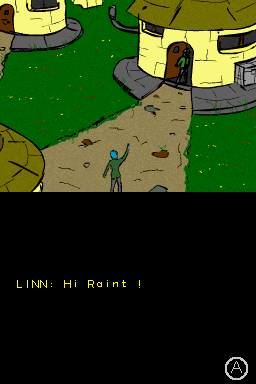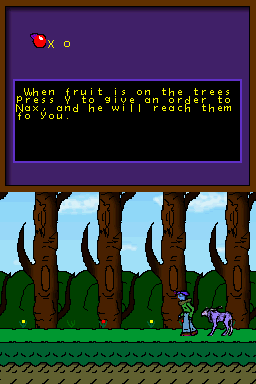 Known issues
The sound from the start menu sometimes fails.
At level 1 sometimes Nax (the dog) stays floating in the air laughing, you will have to call him back by pressing Y.
Erratic behaviors in Nax, sometimes when he has thrown the fruit from the tree, keep searching, if you've caught it before it hits the ground.
Sometimes when you start the level, and press walk, Raint's animation does not work, you have to release the button and then press it again.
Changelog
Version 0.99
Version 0.95 Chapter 1
Credits
Thanks to Arbër and AlmamuPP , who have been in charge of the translation.
External links