DS All Stars
From GameBrew
DSAllStars
General
Author
space1
Last Updated
2007/08/24
Type
Puzzle
Version
7
License
Mixed
Links
[7 and adult patch Download]
Website
DS All Stars is a puzzle game based on Qix, where you need to clear the screen while avoiding the enemies to revive the background. An adult version patch Porn All Stars is also released with DS All Stars.
It was submitted for the NEO Summer Coding Compo 2007 (winner).
Note: Adult patch contains nudity and is not appropriate for minors.
Features
New sympathetic musics, 4 various exits of Amiga plays.
Musics during the visionnage of the photographs of the finished levels.
Support on Select during the menu to put at 0 the hi-scores.
28 levels in total.
Hearts cut into 2 for marking the various lives available well.
Level of difficulty: level 1 to 14 with 2 small enemies then 3 small enemies for the following levels.
You can put the images which want in the play. You have just to add GIF 256 colors in the good repertory and it left.
Installation
Download and unzip.
Copy DSAllStars.nds (DLDI patch it if needed) and Gifallstars File to root directory of your micro SD card.
Note: To install the adult version patch, overwrite the GIF folder.
User guide
It is a Qix remix, you win when you reach 75% of the 2 screens of the Nintendo DS.
The game saves your best hi-score in each 28 levels.
Controls
A - (hold) Draw line, (release) Rewind to previous position
Start - View picture (menu), Pause (in game)
Screenshots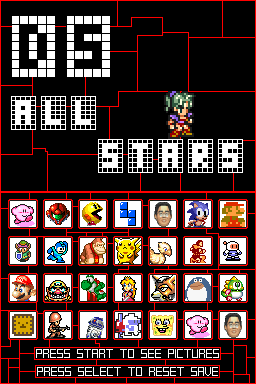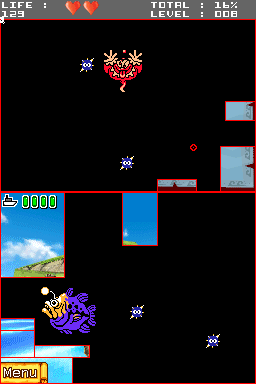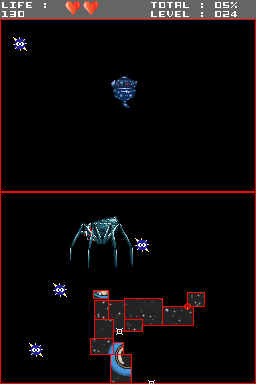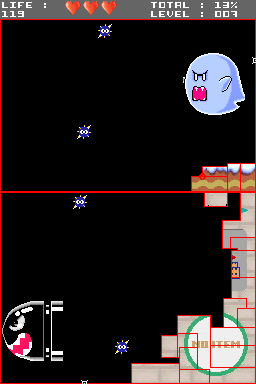 Changelog
V7
New musics (4 from Amiga games).
Music when you see pictures of finished levels.
You can reset hi-score with Select on menu.
2 new levels for a total of 28.
2 levels of difficulty: 2 small ennemies in level 1 to 14 then 3 small enemies.
And mainly, now you can add yours pictures, you just have to put GIF 256 colors in Gifallstars/ folder.
V6-V5
Bug correction in save.
Names of "ladies" in adult version.
V4 with some improvments
Push Start in menu to view pictures of finished levels.
A cross appear on menu when you have finished one level.
Push Start to pause the game.
You must hold A to draw lines, if you unpress A you rewind to the previous position.
Press any button to erase the final picture.
Some others improvments.
External links