DJ Portable DS
From GameBrew - a wiki dedicated to Video Game Homebrew.
DJ Portable
General
Author(s)
t4ils
Type
Music
Version
1.1
Licence
Mixed
Links
Download
Website

DJ Portable DS is a music homebrew game inspired by Dj Max Portable on psp. In the game you can choose between English or French.
Installation
Download and extract file.
DLDI patch it and copy it to the root directory of the card.
If the FAT library returns an error, you can still edit/play songs but not load or save.
User guide
You have to hit notes whith the right buttons when they reach the red line.
This game include both Play and Edit parts, which allows you to create compositions then play. You can choose the speed and the composition can be saved.
Editor mode:
Choose a track to edit then modify it to your liking.
The keys are explained on the upper screen.
The preview starts from from current position and stops when you press Select key again
Save is done on the current slot, so it overwrites the old song.
Play mode:
The track you play on is the last one edited.
To load a music, you must therefore edit it and then quit the editor (with or without saving).
The notes scroll, and you should play them when they approach the red line.
Your accuracy is shown in % on the right of the bottom screen.
Your score and your max combo are also at this place.
Controls
Menu:
D-Pad - Move
A - Select Game mode, Choose to save song
B - Select Edit mode, Choose not to save song
Edit mode:
A - Put note
B - Remove note
Y - Tone up
L+Y - Tone down
X - Change instrument
L+R - Clear all
D-Pad - Move
R - Move faster
Start - Leave editor to save/delete
Play mode:
Right/Up/X/A - Activate the passing note
Start+Select - Return to the menu
Screenshots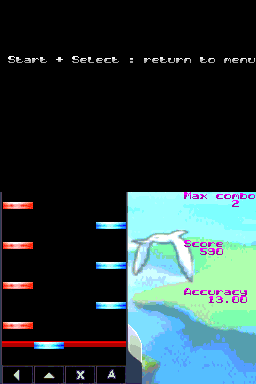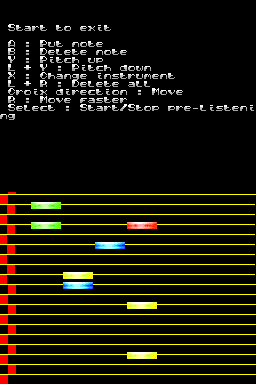 Compatibility
Tested on Original R4 (firmware 1.17).
Known issues
Edit mode:
Be careful not to go to the very top of the track (the top of the screen is not the top of the track, the top of the track is much further away) when you are previewing, otherwise it shifts the notes.
Placing several notes on the same line will only play the 1st in preview.
Play mode:
Several notes on the same line will only play the 1st if you press exactly the keys at the same time. The different notes are still validated.
If you have deleted a note placed very high on the track in the editor, this point will be kept as the end of the song.
It may therefore take a long time for the game to return to the menu, so press Start + Select to prematurely quit.
Changelog
v1.1
You can now place any instrument on any line. You are no longer limited to one type of sound per instrument per track.
8 pitches per instrument (except drums).
External links