Cube-DS
From GameBrew
Cube-DS is a 3D, touchscreen controlled Rubik's Cube game for the Nintendo DS. The emphasis in this project is on features and functionality, rather than graphics.
Features
Saving and loading.
Scrambling.
Palette editing.
Painting.
User guide
Push the SCRAMBLE button to scramble the cube, and the game began with the option PLAY.
Another option available in this game is to modify the colors of the sides of the cube, so as to save the models (3 maximum) and load, with a session of customize game play.
In Painter mode, painting the cube squares different colours works in the same way as twisting during normal play.
Controls
Menu:
Stylus - Browse control options
In game:
R/L - Twist segments of the cube
Stylus - Rotate the cube (touch and drag)
Screenshots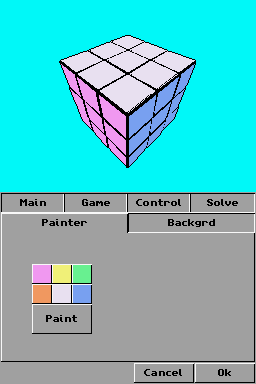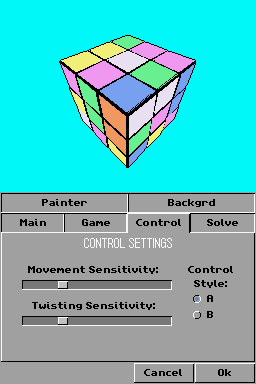 Compatibility
Tested on Games n 'Music (DLDI v2.0 with firmware 1.3).
Credits
The Settings screen uses the Woopsi GUI library for DS, created by Antony Dzeryn.
The Solving algorithm was written by Eric Dietz.
External links