Brix DS
From GameBrew - a wiki dedicated to Video Game Homebrew.
Brix DS
General
Author(s)
Boive
Type
Puzzle
Version
3.0
Licence
Mixed
Links
Download
Website

Brix DS is a physics-based homebrew puzzle game for the NDS.
It was participated in the NEO Spring Coding Compo 2009 and ranked 3rd, Game section. It was voted the 11th Top DS homebrew in the best DS homebrew contest in 2009 and ranked 4th in the Scene.
Features
73 levels in total.
Different types of bricks for more challenging gameplay.
Installation
Download and extract file.
DLDI patch it if needed (most new carts have auto DLDI-patching) and copy it to the root directory of the card.
User guide
Remove all the gray blocks so that you can safely dispose of the bomb.
You will find different types of bricks througout (there is a block description in the game). You can breeze through the first levels as if they were nothing, but the final levels will definitely not be as easy.
The last 8 levels take place on the moon: beware of lunar gravity! With that, good luck.
Controls
Stylus - Remove blocks
A - Save/load
B - Continue
Screenshots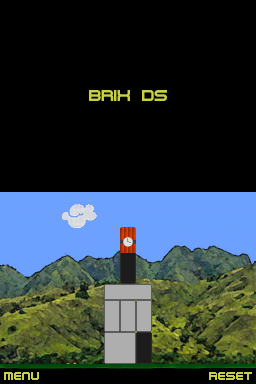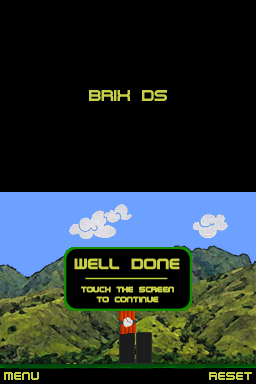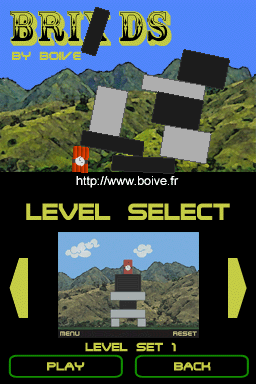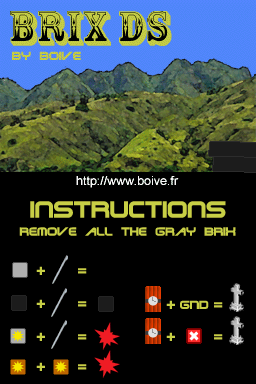 Media
Brix DS Walkthrough Part 1 (BoiveProductions)

Walkthrough Part 2 (BoiveProductions)

Compatibility
Tested on:
M3 Real (firmware 4.2c)
Ez Flash (firmware 1.90 openbeta 7)
R4DS (firmware 1.17
Top Toy DS (firmware 1.17 and 1.15)
Cycle DS (firmware 1.5)
iTouch DS (firmware 2.4)

Changelog
3.0
2 new level set (16 new levels).
New environment, the moon.
Credits
Chipmunk (a little bit modified) and PAlib.
External links