BrickBreaker DS
From GameBrew
BrickBreaker DS
General
Author
FUK-Team
Last Updated
2016/12/23
Type
Arcade Games
Version
1.0
Links
Download
Website
Brick Breaker is a Breakout clone initially developed for the 3DS over half a year with features like a full working level editor over the time.
This is a port of the complete game (except of a few minor details) to the DS, written with the help of NFLib.
Installation
Put the data folder into the microsd's root and .nds where you want.
Controls
In game:
D-Pad or Stylus - Move paddle
Editor:
D-Pad - Move the marker
A - Change block to destructable one (3 hits)
B - Change block to solid one
Y - Change block to destructable one (1 hit)
Start - Save changes and return to menu
Screenshots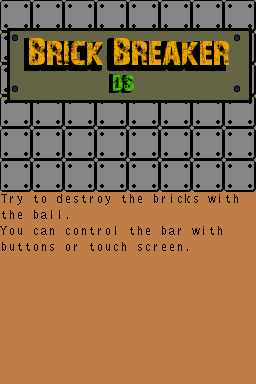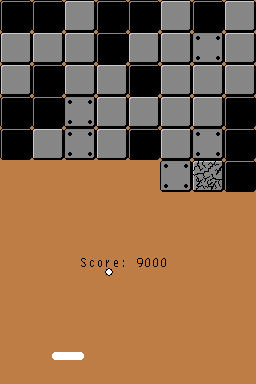 Compatibility
Nintendo DS/DSi/3DS with a flashcard (e.g. R4/Supercard/M3).
This application might not work with emulators because it uses the FAT file system.
Changelog
V1.0
Major changes:
No bottom screen in map editor.
No touchscreen support in map editor.
Stripped down instructions.
Constant speed for ball.
Slightly modified collision detection (probably works better).
No 3D.
Minor changes:
Less bricks (to fit them on the screen).
Removed menupoint exit.
No borders on top screen (because both screens have the same size).
External links