Bermuda CS PSP
From GameBrew
Bermuda CS
General
Author
bumuckl
Last Updated
2008/05/23
Type
Utilities
Version
9CF
License
Mixed
Links
Download
Website
Bermuda CS stands for Bermuda Creative Suite and is a homebrew application for the Sony PSP. It is a multifunctional homebrew tool for painting as well as graphic design. According to the author the last and final version is Bermuda CS 9CF.
Bermuda CS 7 was participated in the Neo Summer Coding Compo 2007 (PSP Applications, 3rd place).
Features
Pencil.
Brush.
Eraser.
Fill Bucket.
Rectangle.
Circle.
Effect Draw.
Gradient.
Stamps.
Zoomtool.
Pipette.
RGB Settings.
Color Palette.
Move around Canvas.
Write text (25 different Fonts).
Linetool.
Shortcut Palette.
Save Picture in JPG or PNG.
Open Picture using a filebrowser in JPG or PNG.
Set Dpad-sensitivity.
Make new Picture.
Set Picturesize (unlimited).
Enable/Disable USB Mode.
And More.
Installation
Copy the BermudaCS9 folder to your Memorystick in /PSP/GAME/.
User guide
Please refer to the enclosed pdf file, which covers the basics of the application.
Controls
R/L - Move between colors
Up/down - Move through Menu
Left/Right - Change choice
Analog - Move brush
Cross - Select/Paint
Triangle - Change Brush type
Select - Options
Start - New File
Screenshots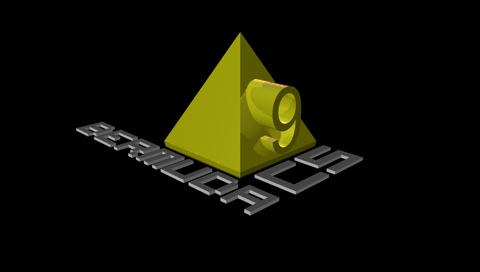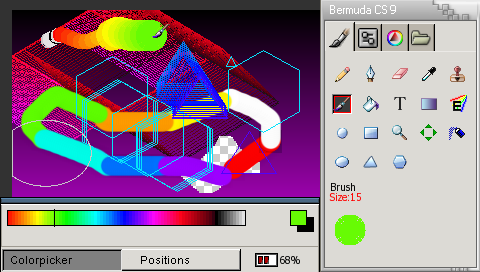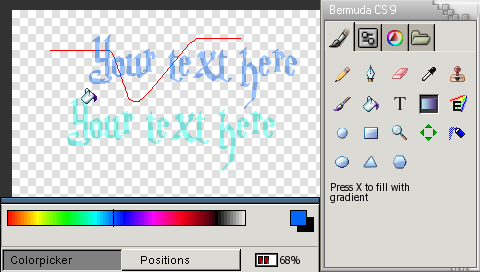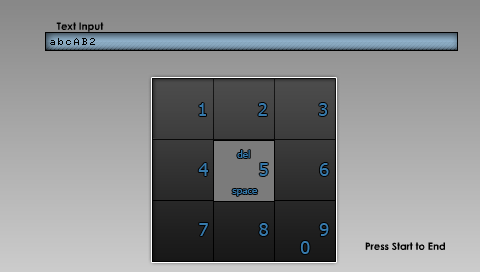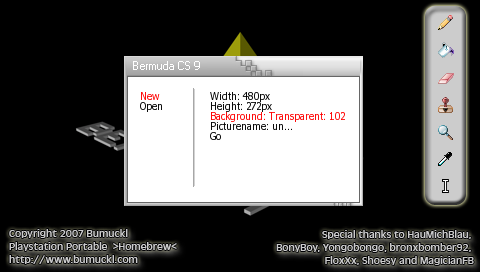 Media
Bermuda CS 9 (bumuckl)

Compatibility
Compatible with FW 1.0, 1.5 (kxploit patch) and with all Custom Firmwares, with PSP Fat and with PSP Slim.
Changelog
9CF
More comfortable Filebrowser with preview.
Give your picture a name of your choice.
More interactive settings(the amount of brushes and fonts is set automatically).
Completely new stamps.
New graffiti-tool.
New keyboard graphics.
Keyboard: Delete works now.
Ellipse-tool.
Decreased circle-lag.
Set strength of the circle frame.
Set smoothness of the circle.
Draw framed and filled circle.
Much better gradient-tool.
Added transparent workspace.
Set the opacity of the picture on your own.
Fixed some bugs.
Standard cpu-clock is now 333 Mhz.
Set the savepath manually.
Much better brush-tool.
Draw rectangle with gradient.
Some new effectdraws.
Bermuda CS 9 is now compatible with FW 1.0, 1.5 (kxploit patch) and with actually all Custom Firmwares, with PSP Fat and with PSP Slim.
3 more brushes.
Better Eboot design.
Fixed Filebrowserbug.
Fixed Brushesbug.
Credits
Homemister91, HauMichBlau, BonyBoy, YongoBongo, bronxbomber92, FloxXx, Shoesy, MagicianFB.
External links