AcChen DS
From GameBrew - a wiki dedicated to Video Game Homebrew.
AcChen DS
General
Author(s)
preussie
Type
Puzzle
Version
0.81
Licence
Mixed
Links
Download
Website

AcChen is a simple to learn find the matching tile game, similar but different to Mahjong. The original (Sarakon) version was done on the ATARI ST/Amiga back in 1991. The game idea is based on an Arcade game called Match It.
It contains a lot of different levels. Each level takes only a couple of minutes to finish.
Features
Bonus level.
High score list (with DLDI patch).
Smooth UI.
A lof of levels.
Eye candy.
Continue a lost game (with DLDI patch).
Pause mode.
Surrender button.
Yingyang-hint-items.
User guide
Rules
Find two items with identical symbols. The tiles will disappear when you can connect them with a line, which has two or less corners (right angles) in it. Green ways will work (2 corners), red won't (3 corners). Advance to the next level when the board is cleared.
One level can contain tiles in up to 3 layers (light grey, brick, dark grey). You might combine tiles on different layers. If you pick a tile from the top layer only tiles on the top layer block the way.
In general:
If you pick items from different layers, the upper most layer is used for the search algorithm.
Tiles with the same symbol might be located on top of each other. So the fastest pick is not always the best.
Solid tiles can't be removed.
If you pick a pair of YingYang the next picked symbol will be completely removed from the current level. If the YingYang is the last pair of a level you pick, you keep this special for the next level.
Also when you lost a game you can restart it from every 5th level once you have reached it. For eample if you lose in level 7 you can restart at level 5.
The bottom menu contains three buttons:
Left button - Activate/deactivate pause mode.
Right button - Surrender.
YingYang buttons - Show hints. You get an extra YingYang-Hint-Item after finishing a bonus level (you can collect a maximum of 5).
Bonus level
Every 5th level is a bonus level. You start with 4 tiles and have to fill up the map. Every time you remove a pair, 4 new tiles will appear. If you manage to fill up the whole map, you receive a 100 point bonus. If the time runs out before, you advance to the next level. After finishing a bonus level you receive an extra YingYang-Hint-Item.
Scoring
The first succesful pick scores 0 points. The next pick within 3 seconds, scores 2 points, within 5 seconds 1 point.
After finishing a level, the remaining time is added to you score.
Screenshots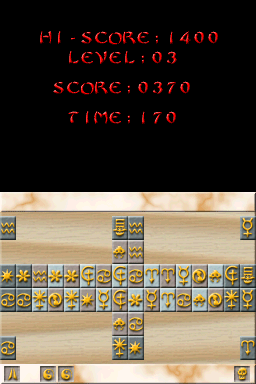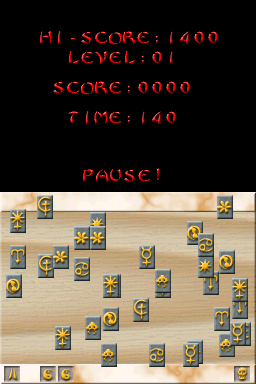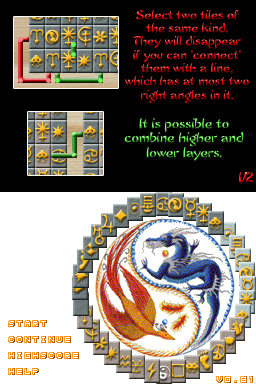 Changelog
v0.81
Selecting an item -> backgound -> item did remove the item
Hint-items did not display before you picked the 1st pair when a game was restarted
Selected items were not reset when a game was restarted
Credits
A big thank you to Kai Gerkens for testing and making the title gfx.
External links