ASCIIJump 3DS
From GameBrew
ASCIIJump
General
Author
MCJack123
Last Updated
2016/03/20
Type
Platform
Version
1.0
License
Mixed
Links
Download
Website
Source
ASCIIJump is a clone of Geometry Dash in plain text for the 3DS.
Features
Beautiful main menu.
Coming soon message for unmade levels.
R & L buttons work on the menu as well as Circle Pad and D-Pads.
Speed is the same as Geometry Dash (11 squares per second).
Jump is the same as Geometry Dash (3*4 jump area).
Easy level implementation in the code with simple ASCII characters and a define function.
Percentage scores (they do not save to the scores file, though).
Cube customization (you can't save the cube you have, so you have to change it each play).
Press Y to access the menu.
Installation
Drop the 3dsx/cia/elf file into the destination, and place the data folder next to your executable.
If there is no data folder, make it like specified below. Here is the directory structure:
Root 
 |-3ds/ 
 |  |-ASCIIJump/
 |  |  |-ASCIIJump3DS.3dsx/elf/cia
 |  |  |-(ASCIIJump3DS.smdh)
 |  |  |-data/
 |  |  |  |-scores.txt
 |  |  |  |-cube.txt
 |  |  |  |-(background-loop.bin)
 |  |  |  |-(level.bin)

User guide
Blocks included:
Square Cube (B).
Lined Cube (D).
Small Spike (x).
Big Spike (X).
Spike Grid (s).
Top half-cube (-) and bottom half-cube (_).
Slopes (/ and ) (does not have collision detection ATM).
C means not complete.
F means level end.
Space means air block.
Screenshots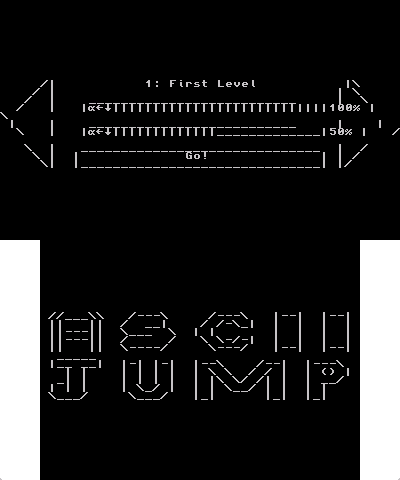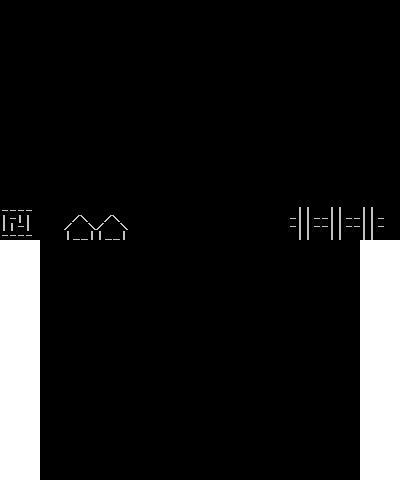 Known issues
The music is not working yet.
External links