3DS Toolkit
From GameBrew
3DS Toolkit
General
Author
fafaffy
Last Updated
2015/08/06
Type
File Operation
Version
1.2
License
Mixed
Links
Download
Website
Source
| | |
| --- | --- |
| | This application has been obsoleted by one or more applications that serve the same purpose, but are more stable or maintained. |
This is a WIP 3DS toolkit which aims to be a beautiful, versatile program that people will be able to use for anything 3DS.
This program runs off of plugins, so it gives you the ultimate say of what does and doesn't go inside this program.
Features
Plugin support (via DLL files).
3DNUS plugin (approved by ground).
Screenshots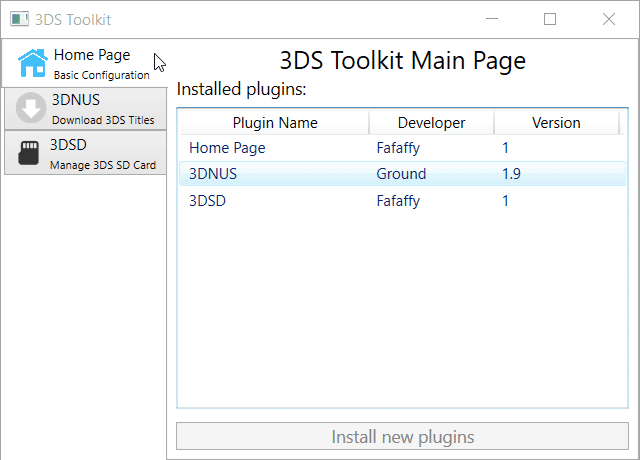 Changelog
v1.2
Users can now actually open the utility without having a blank screen.
Homebrew tab is a little more robust; users can now download homebrew from an online database HOWEVER.
Homebrew is currently downloaded, but can not currently be installed to SD cards.
The download button won't properly rename itself to "Extract" once you first download, not sure why (bug).
v1.1.0.0
Homebrew tab:

Can now read off of removable storages (e.g. SD cards).
Can read installed homebrew, along with their icons/names/descriptions.
Work-in-progress homebrew download section.

Main:

Will now check for updates regarding the main program.
Fixed minimum size, so the program layout doesn't get all screwy.
External links