Whee!DS 2
From GameBrew - a wiki dedicated to Video Game Homebrew.
Whee!DS 2
General
Author(s)
Tassu
Type
Racing
Version
1.0
Licence
Mixed
Links
Download
Website

Whee!DS 2 is a homebrew racing game for the NDS, featuring hovering spaceships. While racing you can collect up to two items, which then can be used.
It was submitted to the NEO Summer Coding Compo 2007 (winner).
Features
Use weapons to knock down your challengers.
Scenarios are in 3D.
DS Motion Card supported to control the spaceship.
An unlimited number of circuits.
User guide
Race with your spaceship on the surface of an alien planet. Use boosters and weapons to beat your opponents and unlock new race tracks. If you have a motion card, you can control the ship by turning the DS.
There is infinite number of tracks to unlock and every one is a bit more difficult then the previous one.
Playing tips:
Never release the A button. Like this your speed can build up and you can go very fast.
You can turn faster when you hold the B button. But you still shouldn't release the A.
Controls
L/R - Use item on the left/right
D-Pad - Move spaceship
A - Accelerate
B - Stop
The game supports DS Motion.
Screenshots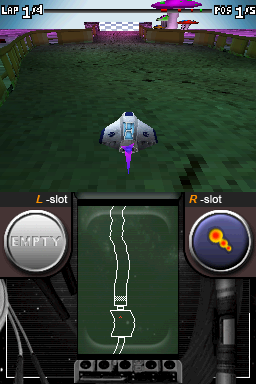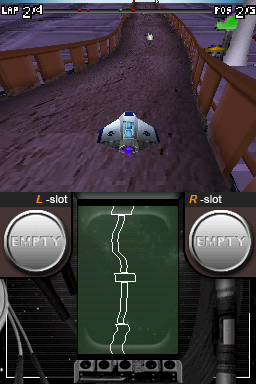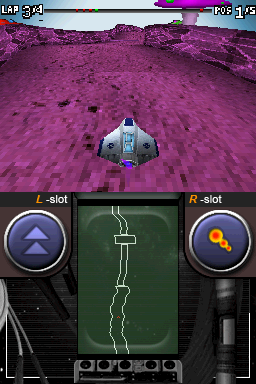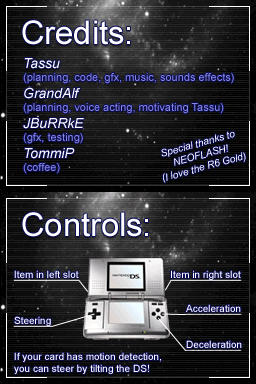 Media
Whee! DS (Tapio Pyrhönen)

External links