Ultra-FastReflexes
From GameBrew
Ultra-FastReflexes
General
Author
Montspy
Last Updated
2008/02/04
Type
Other Games
Version
0.2
License
Mixed
Links
Download
Website
Ultra-FastReflexes (French) is a game of reflex on the NDS.
User guide
Once the game begins, images corresponding to a key on the DS (or the Stylus) will be displayed, and you need to press the correct key as quickly as possible.
Be careful not to make a mistake otherwise the game is over. Highscores will be saved).
Controls
A - Start
Stylus - Select option (menu)
Screenshots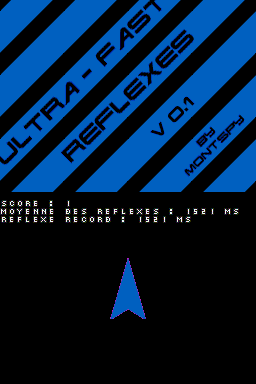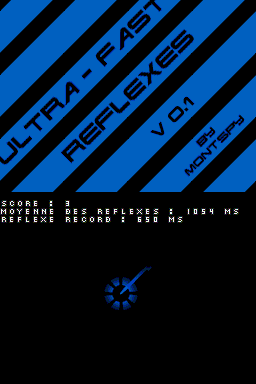 Changelog
Version 1
Added 4 languages ​​(5 in total) depending on the configuration of the DS (French, English, Deutsch, Italiano & Español).
Added music.
Added a MLLib splash.
Version 0.3
Managing highscores.
Saving the best score in the Ultra-FastReflexesScores.sav.
Version 0.2
Integrating timer.
Management of the record time and the average time.
Version 0.1b
Fixed the bug which required to turn off/on the DS again to play a new game.
Version 0.1
Adaptation on DS.
Discovery of this game on PSP.
External links