Touch me (I'm famous)
From GameBrew - a wiki dedicated to Video Game Homebrew.
Touch me (I'm famous)
General
Author(s)
Mia
Type
Music Shooter
Version
0.1
Licence
Mixed
Links
Download
Website
Source

Touch me (I'm famous) is a homebrew game that makes use of the touch screen feature. It's a combination between a shooting game and a rhythm game for the NDS.
User guide
To play the game you need to hold the DS vertically, the same way as in Brain Training for instance.
The aim of the game is to blow everything up. You have to tap the enemies with the stylus, but always according to the rhythm: either on the beat (represented by the periodic flash effect) or on the back beat.
A BOMB shows up in case of success.
Scoring
BOMB - For each enemy +10 points.
TOUCH (without BOMB) - For each enemy +3 points.
Multi-BOMB (several enemies BOMBed at the same time) - For each additional enemy +20 points.
BOMB combo bonus - Additional +10 x maximum_BOMB_combo points.
Controls
Stylus - Start game, Shoot enemies
R - Black and white mode (if pressed at starting the game)
Screenshots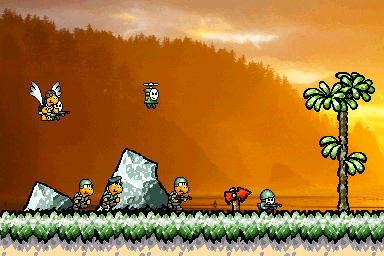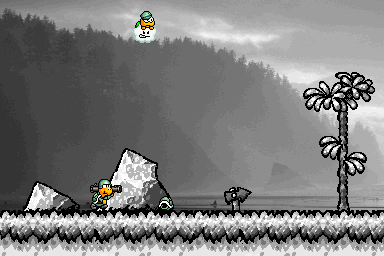 Credits
The song heard during the game is a sample from Sweet euphemisms by Soso.
External links