SyobonActionDS
From GameBrew - a wiki dedicated to Video Game Homebrew.
SyobonAction DS
General
Author(s)
n00bey (leinad)
Type
Platform
Version
2012
Licence
Mixed
Links
Download
Website

SyobonActionDS is a remake of the Japanese freeware platform game Syobon Action for the NDS. It is a Mario clone with some small but extremely challenging levels, also known as The Impossible Japanese Game (often referred as Cat Mario and Mario from Hell).
This homebrew is submitted to the NEO Retro Coding Compo 2012.
Features
Easy setup: No DLDI/NitroFS whatsoever.
The original graphics are used.
Full music and sounds from original game.
13 and a half stages.
Possibility to skip levels and Fly-Mode Cheat.
User guide
Get through stages and avoid traps.
Controls
Left/Right - Move
Up - Skip
Down - Enter tunnels
Y/X - Commit suicide
Select - Swap screens
Start - Pause
Screenshots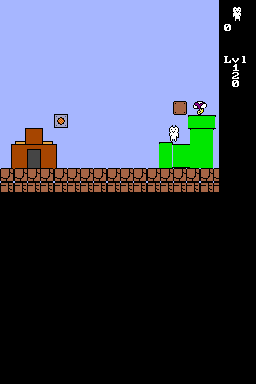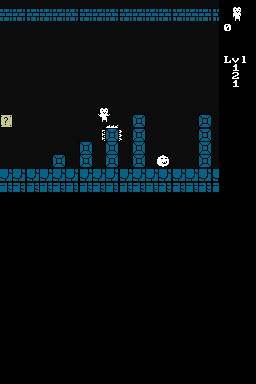 Media
Syobon Actions Stages 5-8 Walkthrough (Pleskin85)

Compatibility
Tested on Supercard DSTWO (firmware 1.11).
External links