Super Metroid World
From GameBrew - a wiki dedicated to Video Game Homebrew.
Super Metroid World
General
Author(s)
DeProgrammer
Type
Platform
Version
2009
Licence
Mixed
Links
Download
Website

Super Metroid World is a (short) game for the Nintendo DS made by mixing Metroid and Super Mario World elements. It is developed in about 40 hours by DeProgrammer, with the sprites previously provided by Kuro-Chan of Metroid Headquarters.
This homebrew was written for the 2009 Nintendo Community Fangame Convention minigame contest.
User guide
Control Samus Aran (Metroid) and fight against familiar enemies that appears from both video games.
You are able to jump and shoot, and even do it in slow motion. In order to shoot however you must be in the orange power suit. If your suit is blue, you will not be able to shoot. Avoid touching any enemy or you will die instantly.
Controls
D-Pad - Move
A - Shoot
B - Jump (hold to jump higher)
Start - Start over
Select - Slow motion
Screenshots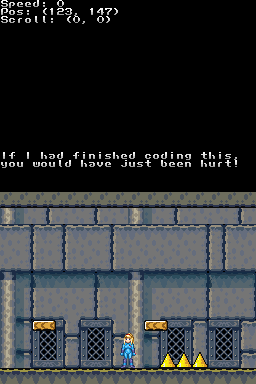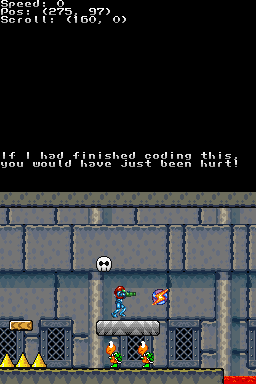 Media
Super Metroid World - Minigame - NCFC 2009 (DeProgrammer)

Compatibility
Developer recommended using the NO$GBA emulator to play this homebrew.
Tested on:
R4i SDHC Revolution (firmware 2.7d)
CycloDS Evolution (firmware 1.59)
DSTT (firmware 1.17)
iPlayer (OS 1.3 firmware 1.0.6)
R4 SDHC (firmware 1.34)
R4 Wood (firmware 1.10)
SuperCard DSONE (unknown firmware)
Acekard 2i (firmware 4.21)

Credits
Intro fanfare, Samus, power beam, and item sprites made by Kuro-Chan of Metroid Headquarters and donated to DeProgrammer.
Map made by Tourk specifically for the project.
Coin, beep, power-up, hit, hurt, item sprout, jump, and bullet sounds made by DeProgrammer using DrPetter's SFXR.
Background ripped by Beam Luinsir Yosho.
Tiles ripped by Viiper.
HUD ripped by Lotos.
Super Mario World enemies ripped by Tonberry2k.
Castle music tracked by Hanged Man and Purgatory. Music was modified to fit the DS better.
Invincibility music tracked by TR3FOREVER.
1-up, spring jump, and kick sounds ripped from Super Mario World by Alluro95.
SMW death sound ripped by Deezer.
The involved individuals/parties are neither affiliated with nor endorsed by Nintendo.
External links