Super Mario Galaxy DS
From GameBrew - a wiki dedicated to Video Game Homebrew.
Super Mario Galaxy DS
General
Author(s)
Froskito
Type
Platform
Version
Demo 3
Licence
Mixed
Links
[episode 1 and 2 Download]
Website

Super Mario Galaxy DS (Spanish) is a recreation of the commercial game for Wii, in which Mario will have to go through different galaxies overcoming different obstacles and enemies to move to the next galaxy and rescue Princess Peach from the hands of the evil Bowser.
The game is divided into two episodes that is to be continued.
Installation
Put the episode you want to play into the root of your flashcard.
Super Mario alaxy DS [Demo 3].nds - Episode 1.
Super Marop Galaaxy [EPISODIO 2].nds - Episode 2.
Note: You will also find Cara Super Mario Galaxy DS.nds. Developer stated if you have problems running episode 1 from your flashCard, you can try opening through this (it will launch a file selector).
User guide
Who Said You Can't Modify Gravity? Jump, fly, walk on the walls, for Mario there is nothing impossible. Help Mario to find the energy stolen by Bowser through the galaxies.
Episode 1
It only consists of a platform collision engine in which gravity changes depending on where you are. There are 2 unlockable galaxies:
Bee Galaxy.
Bowser's Galaxy.
If you get the first two stars, you can enter the Bee Galaxy. Once you get the star of the Bee Galaxy you can enter Bowser's Galaxy, in which you will get a surprise ending.
In the 2nd part of the Bee Galaxy, there will be walls where you will have to keep jumping in order to fly over the hive.
Episode 2
It contains 3 new galaxies:
Icy Volcano Galaxy.
Ghost Galaxy.
Hulking Galaxy.
Mario will have new ability to swim, companion Yoshi, the ghost costume and a battle against Bowser.
In addition, you can now access the observatory to see the information of the galaxies.
Controls
Stylus - Move the star cursor
Right - Move Mario forward
Left - Move Mario backward
A - Jump
Y - Skip to the Galaxy 2
Screenshots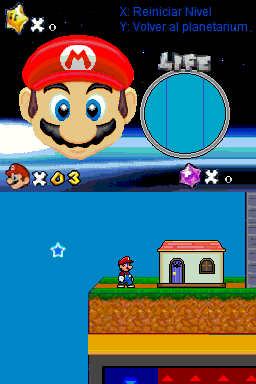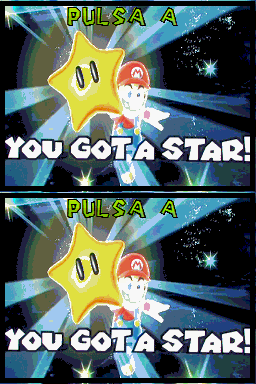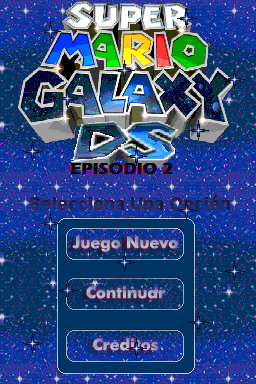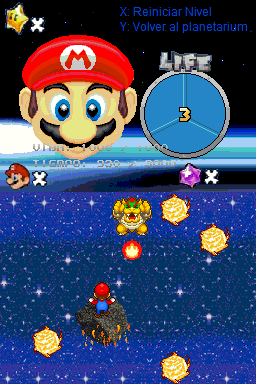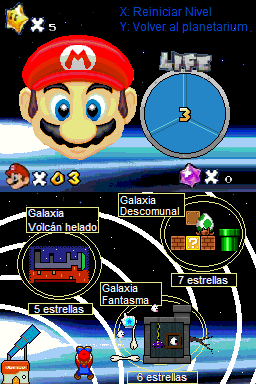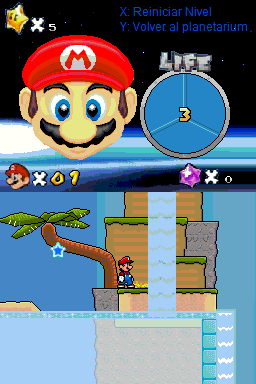 Compatibility
Tested on:
M3i Zero (unknown firmware)
Real M3DS (firmware 4.8)
TTDS/DSTT (firmware 1.17)
TTDSi/DSTTi (firmware 1.17a12)
iPlayer (OS 1.3)
Ez-Flash Vi (firmware 101)

Changelog
Episode 2 Version
Code cleaning.
Added game icon.
Battle with Bowser.
Three new galaxies (Frozen Volcano, Ghost and Huge).
Yoshi appears in the Huge Galaxy.
Mario can swim.
Mario turns into a Ghost.
Added observatory with information on the Galaxies.
Fade black when selecting a galaxy.
Episode 1 Demo 3
Added menus (Intro).
Added credits.
Music on the menu.
Improvement of Graphics.
Intro with History and explanation.
Small Gif sequence in the Intro.
Union of the game and the menus.
Changed the image of above.
Improved some graphics that give something 3D printing.
Now in the menu it says Super Mario Galaxy DS.
Added Lives x 3.
Added stardust (those colored stones) (There is only one).
Improved Star Cursor.
The lives sprite are not the font of PAlib.
When you get to the star you get an image telling you that you have gotten a star.
Finished Galaxy 3.
Planetarium with 3 available galaxies.
Added counter of star.
Added counter of stardust.
The Galaxy 3 (Bee) now has to unlock (2 stars required).
Second Unlockable Galaxy: Bowser's Galaxy (3 Stars Required).
Demo 2
Teleportation stars that take you from one world to another.
The background is no longer black (depends on the galaxy).
The Sprites now are Mario.
Finished Galaxy 1.
Finished Galaxy 2.
Image on screen above.
Music in the Galaxy 1 (had to be removed, will be added again later).
Sound to the give a jump (had to remove it, will be added later again).
Cursor of Blue Star.
Reduced the rate of Mario.
External links