Sudoku - Zapf
From GameBrew - a wiki dedicated to Video Game Homebrew.
Sudoku
General
Author
Zapf_Bandit
Last Updated
2005/09/26
Type
Puzzle
Version
26 September 2005
License
Mixed
Links
Download
Website

Sudoku is one of the early adaption of the puzzle game Sudoku for the NDS. It has 150 puzzles.
User guide
Fill a 9×9 grid with digits so that each column, each row, and each of the nine 3×3 sub-grids that compose the grid (also called boxes, blocks, regions, or sub-squares) contains all of the digits from 1 to 9.
Controls
Start - New puzzle
Screenshots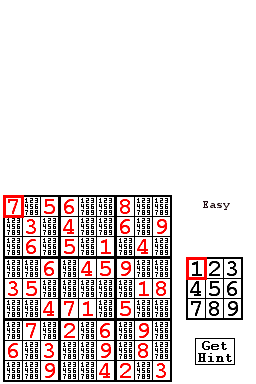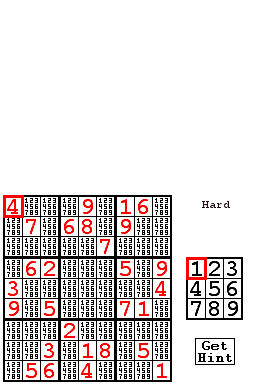 Compatibility
Does not work on Emulator.
Changelog
2005/09/30
2005/09/26
A new version (same addresses as before) which now starts squares blank.
2005/09/21
External links