Stray Cat DS
From GameBrew - a wiki dedicated to Video Game Homebrew.
Stray Cat DS
General
Author(s)
frodonag
Type
Platform
Version
Final
Licence
Mixed
Links
Download
Website

Stray Cat DS is a port of the game Stray Cat from MSX, which is a pure and direct platform with lateral auto-scrolling. ​The original game has been developed by Imanok for last year's MSXDev.
Graphics and mechanics are retained from the original game with some small modifications, including the jump physics, new screens and enemies (although most have the same behavior as MSX game).
Features
2 worlds available.
Autosave.
User guide
The aim of the game is to bring our beloved kitten to his beloved.
Go jumping from roof to roof while dodging enemies until the end of the screen (everything is enemies except the mushroom).
To reach a new scenario you must complete the previous one. Each scenario can be passed in 2 minutes. Short but very intense.
Controls
D-Pad - Move
A - Jump
Start - Pause game
Screenshots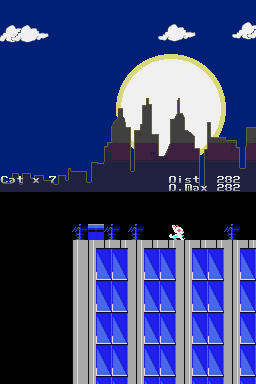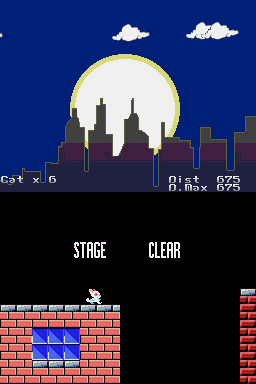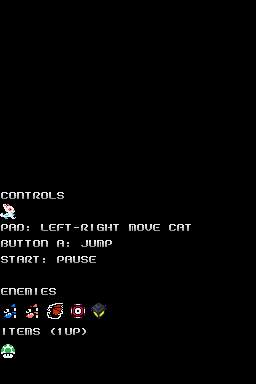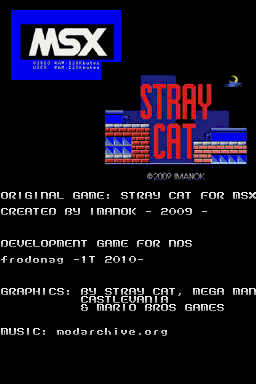 Compatibility
Tested on:
iPlayer (OS 1.2 firmware 1.0.6)
Top Toy DS (firmware 1.17a12)

External links