Sound Way
From GameBrew - a wiki dedicated to Video Game Homebrew.
Sound Way
General
Author(s)
Jorge Villalta Peyró (Dextervi), Rocío Rider Franco
Type
Music
Version
2010
Licence
Mixed
Links
Download
Website

Sound Way is a homebrew game for the NDS, based on a Nintendo's Electroplankton minigame. Interact with arrows to create a melody in differents music scales. The game don't have any goals and targets, only music and the universe.
Features
Supports two players with router connection.
Save function.
User guide
Move the arrows so that the ships emit a series of relaxing sounds as they pass through the arrows.
There are items that will change the properties of sound or slow it down.
The homebrew has a single player mode as well as a multiplayer mode through WiFi.
Controls
Stylus - Rotate arrows
D-Pad - Select IP address when searching for multiplayer game
A - Create multiplayer game, Change arrows to opposite direction
B - Look for multiplayer game
X - Start game for single player
Start - Save game
Screenshots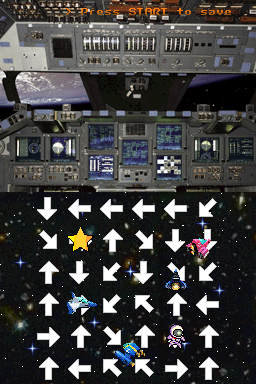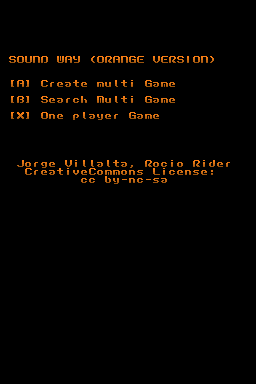 Media
SoundWay OnePlayer Demo (Jorge Villalta)

Compatibility
Tested on:
EZFlashVi (unknown firmware)
M3Lite (unknown firmware)
DSTT/TTDS (firmware 1.17)

External links