SnakeDS
From GameBrew - a wiki dedicated to Video Game Homebrew.
SnakeDS
General
Author(s)
Beda
Type
Puzzle
Version
1
Licence
Mixed
Links
Download
Website

SnakeDS is a port of the flash game Unreveal.
User guide
The object of the game is to score the most points because the drawing is gradually revealed.
Controls
D-Pad - Play
Start - Pause
L/R - Change girl
Stylus - Choose girl
Screenshots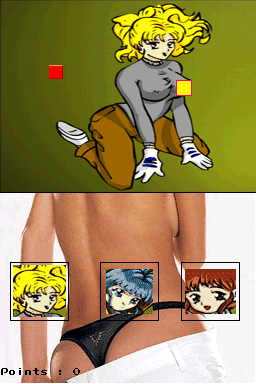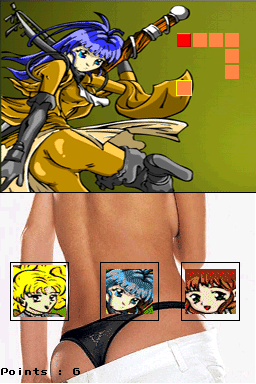 Changelog
Version 1 2007/03/21
The game is finished, more has to find nicer graphics and new ideas.
Version 0.095 2007/03/19
Adding a small Zique.
We can change girl with L and R.
Just remains to be done: Losing when you eat yourself.
Version 0.09 2007/02/27
Just some graphic bugs to correct.
Version 0.03 2006/12/10
Voila, the big one is done. All that remains is to make the snake grow.
Version 0.02A 2006/12/09
Version 0.02 2006/12/08
The engine of the game is done (lose when you hit a wall).
In this version the apples are always in the same place, it's normal.
You can also change the girl by pressing one of the 3 choices at the bottom (for the moment it is always the same at different stages) On the other hand I do not understand pq it does not change as soon as you press, you have to tap to fall at the right time. It must be a VBL story.
Version 0.01 2006/12/04
External links