Slippery Cave
From GameBrew - a wiki dedicated to Video Game Homebrew.
Slippery Cave
General
Author
Fantasix
Last Updated
2011/01/11
Type
Puzzle
Version
1.93
License
Mixed
Links
Download
Website

Slippery Cave (French) is a DS homebrew puzzle game with a built-in map editor that allows you to create your own level. It is written in Lua and requires Micro Lua DS to play.
User guide
Control a penguin who is only looking to go deeper into the cave.
Point it towards the ladder, and watch out for the holes in the ice.
The map creator and editor will directly save your maps in the right folder and integrates them into the game.
Controls
Menu:
A - Select
B - Go back
In game:
D-Pad - Move penguin
L+R - Reset score (on title screen)
Start - Pause
Editor:
D-Pad - Choose tiles
Touchscreen - Place selected tiles
Screenshots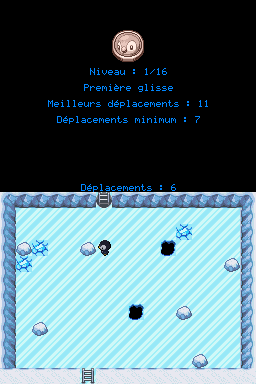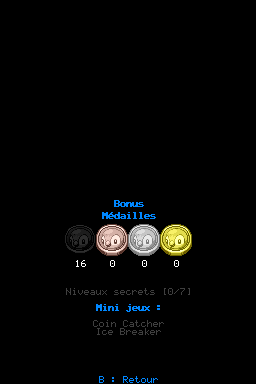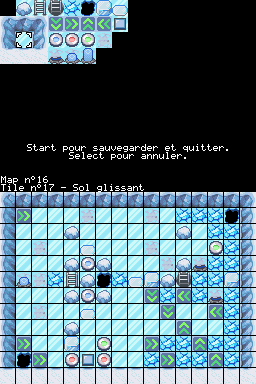 Changelog
Version 1.93 2011/01/10 6:04 p.m.
Big improvement of the code.
Added the two maps from Thermo_nono.
Various changes in the menus.
Version 1.92 2011/01/09 7:00 p.m.
Added medal management.
Display of the medal received at the end of a level.
Display of the current medal in the level selection.
Modification of the bonus page.
Version 1.91b 2011/01/09 5:04 p.m.
Added an encryption algorithm.
Version 1.91 2011/01/09 4:23 p.m.
Added the ability to dictate to the penguin its next move.
Version 1.9 2011/01/09 1:49 p.m.
Changing the title screen image (Thanks Thermo).
Code improvement.
Added the credits page.
Fixed the bug when staying on a geyser.
Version 1.89 2011/01/09
Added a slight sliding sound.
Version 1.87 2011/01/09
Added a score file.
Added of the minimum number of movements.
Improved the soundbank.bin file.
Version 1.84 2011/01/08 7:54 p.m.
Added music (SFX non-functional for the moment).
Changed the Penguin's Positions.
Version 1.8 2011/01/08 5:27 p.m.
Added 3 tiles: Geysers.
Added a map.
Version 1.77 2011/01/08 3:27 p.m.
Added the Reylak map.
Modification of the "Crack" tile which becomes a hole when leaving the square.
Possibility of resetting scores with the L+R combo on the title screen page.
Version 1.75 2011/01/08 00:50 a.m.
Added an anti-slip box.
Added a map (n ° 12).
Modification of the starting square skin (-> Become a ladder).
Modification of the penguin skin.
Version 1.71 2011/01/07 11:37 p.m.
Added a new map (n ° 11).
Version 1.7 2011/01/07 9:42 p.m.
Added 3 new tiles: teleporters: possibility to place only two of each color per map.
Added a new tileset in the "img /" folder (No way to change it inGame yet).
Changed the scale skin.
Version 1.69b 2011/01/07 7:00 p.m.
Version 1.69a 2011/01/07 6.15p.m.
Version 1.65 2011/01/07 3:24 p.m.
Possibility of map editing.
Adding comments.
Version 1.6 2011/01/07 2:51 p.m.
Added level selection option (Finally).
Code lightening.
Version 1.51 2011/01/07 11:59 a.m.
Fixed an error related to the initialization of the map.
Version 1.5 2011/01/07 12:25 a.m.
Bug fix on NDS.
Changed the tileset to 8x8 (64 tiles).
Added of 3 new tiles.
Fixed a creator bug.
Added a map.
Script improvements.
Version 1.4 2011/01/06 9:17 p.m.
Use of holes now possible: Thank you Thermo.
Debugging "ubiquitous tacility".
Tileset modification, now larger.
Added a map.
Added 4 tiles modifying the direction of the character.
Added a grid in the map creator, facilitating the positioning of the blocks.
Various modifications.
Updating screens.
Version 1.3 2011/01/06 7:24 p.m.
Added the map from Thermo_nono.
Possibility to start over during the game.
Added names to maps.
Recording of the best times and number of movements.
Updated Map Creator.
Version 1.2 2011/01/06 10:21 am
Added 2 maps.
Thermo_nono: Added information related to tiles in the creator.
Version 1.1 2011/01/05
Fixed a creator bug.
Resetting the number of movements at each level.
Various corrections.
External links