Sgt. Helmet Zero DS
From GameBrew - a wiki dedicated to Video Game Homebrew.
Sgt. Helmet Zero DS
General
Author(s)
IceVAN
Type
Platform
Version
1.0
Licence
Mixed
Links
Download
Website

Sgt. Helmet Zero DS is a remake of the Helmet Zero on ZX Spectrum. It was made with NFlib (Night Fox lib) and the game is dedicated to Chuck Norris.
User guide
Sergeant Helmet Zero is a mercenary working for fame and glory, and he is called to the far away land of Kartamocia to free the refugees held hostage by the fallen tyrants' security system.
The game itself is a static screen platformer and shooter. You can fire you machine gun rapidly and have to rescue all the people, while keeping your health above 0 percent. Monsters spawn continuously and turrets fire at you.
The game is divided into 4 levels, in order to go to the next one you will have to save 10 hostages in each level.
Controls
A - Jump
B - Shoot
D-Pad - Move forward/backward
Start - Start game
Screenshots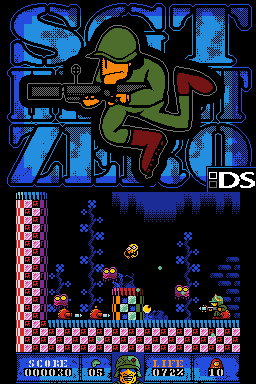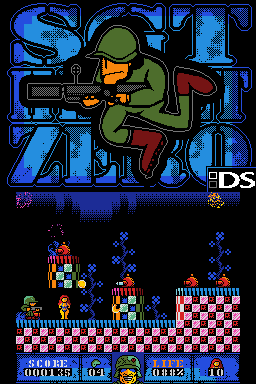 Compatibility
Tested on:
iPlayer (OS 1.2 firmware 1.0.6)
iTouch2 (unknown firmware)

External links