SetDS
From GameBrew - a wiki dedicated to Video Game Homebrew.
SetDS
General
Author(s)
Gedeon34
Type
Puzzle Card
Version
06072007
Licence
Mixed
Links
Download
Website

SetDS is a DS homebrew puzzle game adapted from the card game Set, where you have to seek out combinations and sets from a deck of cards.
Features
Solo mode - Daily Set (WiFi required):

Each day, 10 sets are generated on a server and participants are ranked according to the time taken to find them all. A ranking daily, weekly and monthly are provided.

WIFI multiplayer (WiFi required):

A server for windows can play locally with several DS, this requires setting the IP address of the server and port to use on the DS with the option of setting SetDS.

Save the score in single player-time on a server (WiFi required).
User guide
12 cards are displayed on the bottom screen and you have to look for a SET.
Each card is characterized by 4 components:
Value - 1, 2 or 3.
Color - Green, red or purple.
Type - Rectangle, oval or comma.
Fill - Solid, open, or striped.
A SET must consist of 3 cards whose characteristics must be either all identical or all different.
The three cards must be:
All have the same color or all different.
All have the same value or all different.
All have the same type or all different.
All have the same fill or all different.
The objective is to find a certain number of SET. For each puzzle, you may reuse any of the cards displayed as many times as needed to complete all different SET.
Screenshots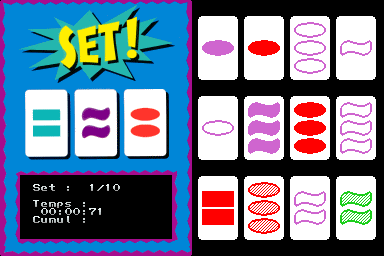 External links