Scogger
From GameBrew - a wiki dedicated to Video Game Homebrew.
Scogger
General
Author(s)
Scognito, Kenny
Type
Puzzle
Version
0.2
Licence
Mixed
Links
Download
Website

Scogger is a DS homebrew puzzle game. The goal of the game is to make the frog jump over all the tree trunks. It supports DS motion.
The first release was part of the Annual Drunkencoders Christmas game coding competition. Later it was participated in the NEO Spring Coding Compo 2008 and ranked 8th.
Features
10 level of 100 different avaiable.
Dual input (touchscreen or D-Pad).
User guide
The goal of the game is to make the frog jump over all the tree trunks in an effort to cross the pond.
The available directions the frog can move are forward, left and right (no diagonals), with no jump distance limit.
The frog cannot jump backward. You can restart the level at anytime if you want to try again.
Clear the stage to going to the next level.
Secret code
You can activate this special trick by using the konami code at the title-screen, which will allow you to press Start and skip to the next level.
Controls
D-Pad or Stylus or DS Motion - Move the frog
Select- Restart level
Start - Skip level (trick required)
R - DS Motion
L - Music on/off
Screenshots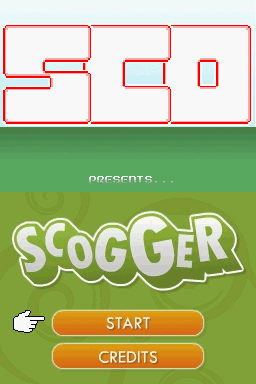 Changelog
Scogger 0.2 2 Mar 2008
Compiled against latest libnds/palib.
Graphic improvements.
New input method! (NDS Motion) - Toggle with R trigger.
New sound effects and background music - Toggle with L trigger.
Scogger 0.1 8 Jan 2008