Runaway Car PSP
From GameBrew
Runaway Car
General
Author
frankdrey, 10$man
Last Updated
2012/09/06
Type
Racing
Version
1.2
License
Mixed
Links
Download
Website
Source
Runaway Car is a 3D car racer developed by 10$man and frankdrey in LUADev.
This is an entry from the Neo Retro Coding Compo 2012 (Games).
Features
Cool 3D Graphics.
3 Cars to unlock.
3 Objects to Avoid.
7 Different Speeds to race through! Can you make it to the 7th level?
A great song custom made by Scott Pereksta.
Real Saving and Loading using the PSP's Save and Load feature.
Check your highscore, accumlated points and cars you've unlocked without loading the game.
User guide
In this 3D game, you will take on the role of a car thief and race down a infinite street well evading trash cans, dumpsters and road blocks.
But that's not it! It gets faster every time your score reaches the next 1000, up until 7000! How long can you survive?
However the game does not stop there. When you're on the road, you can pick up some coins as you go. Then, when you have enough coins, you can go to the car garage and steal a cooler car!
Things to avoid
Any object coming down the street.
Any object, except for the golden coins.
Tips
Collect golden coins for points.
Don't ride up onto the sidewalk too much.
Ride on sidewalk will take away a very small amount of damage. But in a near death situation, that little bit could be the difference between life and crash.
If you hit the building (you'll hear a screech) then you will steadily have health deduced.
Controls
Menu:
Cross - Select
Circle - Back
D-Pad Left/Right - Control the selection
In game:
D-Pad Left/Right - Move your car
Start - Pause menu
Screenshots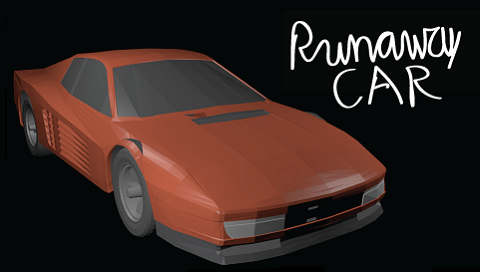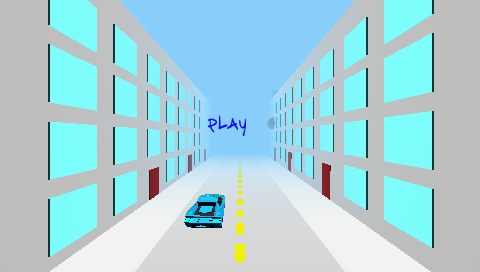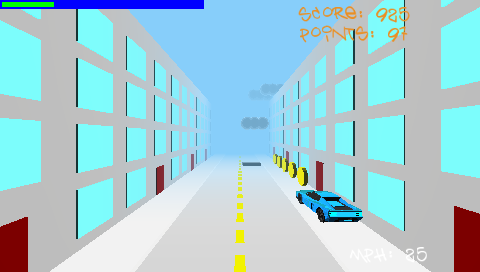 Media
PSP Homebrew - Runaway Car - Gameplay (Rahul George)

Changelog
v1.2
Cleaned code (10$man).
Trying out outlines on obstacles (10$man).
v1.1
Cleaned up and organized code (frankdrey).
New coin ding sound (frankdrey).
v1.0
First official release (frankdrey, 10$man).
Credits
Code - 10$man, frank.
3D Models - frank, 10$man.
Music - Scott Pereksta.
Sound effects - (Crashes), (Coin ding) frank, (Building scratch) Public Domain.
External links