Robot Unicorn Attack DS
From GameBrew - a wiki dedicated to Video Game Homebrew.
RUADS
General
Author(s)
Insanepotato
Type
Platform
Version
1.0
Licence
Mixed
Links
Download
Website

Robot Unicorn Attack for DS is a homebrew port of the flash game originally made by Adultswim. Robot Unicorn Attack is a side-scrolling platform game in which you control the movement of a robotic unicorn in a manner similar to Canabalt, a game released in 2009.
User guide
The objective of the game is to prolong gameplay without falling off the stage, crashing into the edges of platforms or colliding with crystal stars (without first dashing).
Use your rainbow attack to shoot the enemies out of the way.
Controls
A - Jump, Double jump
B - Rainbow attack
Screenshots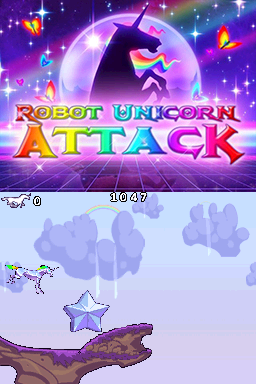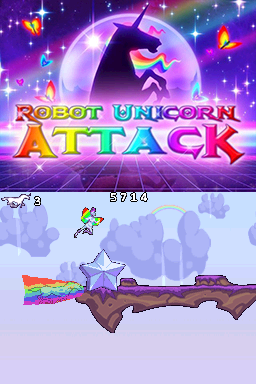 Media
Robot Unicorn Attack DS aka RUADS (insanepotato)

Compatibility
Tested on:
DSTT/TTDS (firmware 1.17a12)
CycloDS iEvolution (firmware 2.2)

Known issues
When using rainbow attack game crashed with music running in the background.
Changelog
v1.0
External links