RPGtemp
From GameBrew
RPGtemp
General
Author
Rydian
Last Updated
2011/03/19
Type
Adventure
Version
Beta 5
License
Mixed
Links
Download
Website
RPGtemp is a choose your own adventure style RPG with ASCII graphics. It will take all cunning, skill and luck to survive.
User guide
Questions based adventure, where you see a question with four options to choose whether to move forward.
Controls
A/B/Y/X - Advance, Answer questions
Screenshots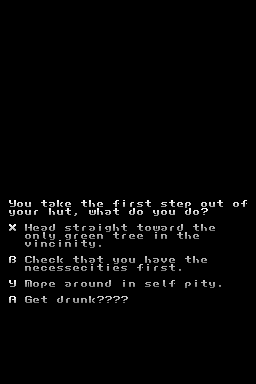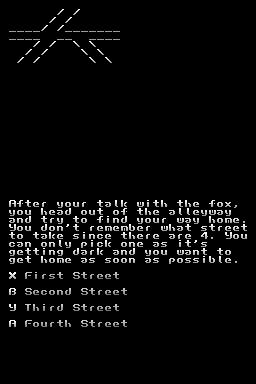 Compatibility
Tested on DSTT/TTDS (firmware 1.17a12).
Changelog
Beta 5 2011/03/19
Beta 4 2011/03/18
Beta 4 brings many more story segments (up to about 20), more ASCII art for story segments (thanks to ron975), and a cleaner look for the choices.
Beta 3 2011/03/06
The previous version skipped most of the story due to some debugging stuff forgot to remove, Beta 3 starts from the beginning again. Whoops.
Beta 2 2011/03/06
Second beta, eight story segments.
Beta 1 2011/03/05
First beta, four story segments.
Alpha 1
Initial alpha demo version where everything's a dead end and most of the art is missing.
External links