PlayDiSmusic
From GameBrew - a wiki dedicated to Video Game Homebrew.
PlayDiSmusic
General
Author(s)
Sumiguchi
Type
Music
Version
28Jan2007
Licence
Mixed
Links
Download
Website

This is a homebrew rythm game for the NDS.
This homebrew was participated in the the PAlib, NintendoMax, PortableDev Compo sponsered by Techworld.fr.
Features
Jam Session mode to use different instruments.
4 tracks to play.
User guide
As the stars fall you must tap the corresponding place on the bottom screen. Not only do you need to pay attention to what color is falling but where along the screen it is falling.
Play to the rythm to get the best score and make the best music. For each of the 4 songs you can play the lead or the rythm/bass. Tracks included are:
Let It Be.
Stand By Me.
Go West.
Crazy Train.
For best results play in a quiet area with the volume turned up or use headphones. Try using your thumbs to get those fast notes.
Note: This game uses SRAM to save results but will prompt you before formating/using it. If you choose not to use SRAM or your device does not support it, your scores will be cleared when the power is turned off. For this reason, all songs are available all the time.
Screenshots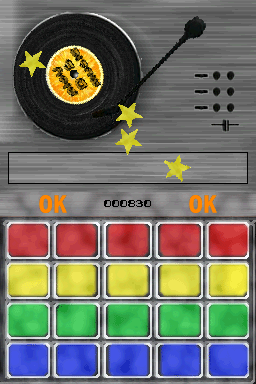 Media
playDiSmusic - NDS homebrew (Jeremy Smith)

Credits
The mod music was modified to fit into the game engine and to slow them down to a playable speed. Big thanks to the artists that made these songs. The original un-edited mods can be found on this site.
Menu Music - Petshop Mix by unknown artist. Presume music originally written by the Pet Shop Boys.
Let It Be - Tracked by ONyX on da best machine in da Galaxy!!! Original music by by Paul McCartney.
Stand By Me - Tracked by S.Rok.O on a sunny summer day 6-27-94. Original music by Ben E. King, Jerry Leiber and Mike Stoller.
Go West - Tracked by Ng Pei Sin on Dec. 17, 1993. Original music by Village People but this version was made famous by the Pet Shop Boys.
Crazy Train - Tracked by Jonathon Scott on a rainy day in october of 1990. Original music by Ozzy Osbourne, Randy Rhoads and Bob Daisley.
This game would not be possible without DevkitPro, libnds and PAlib. Thanks to the contributers to these tools that make NDS homebrew possible and more accessible. Shouts to palib.info and gbadev.org forums.
External links