Parkin' Rampage
From GameBrew - a wiki dedicated to Video Game Homebrew.

Parkin'Rampage is a homebrew sliding puzzle game for the NDS.
It was submitted to the ibrew festival 2020.
User guide
Your goal is to move all cars out of the way, so the police can leave the parking lot.
It has a total of 32 levels which you can select based on the difficulty:
Beginnger.
Intermediate.
Advanced.
Expert.
Controls
Keypad:
X/Y/A/B - Move between cars
D-Pad - Move the selected car
Start - Pause
Touchscreen:
Tap - Select Item, Use selected Item
Swipe - Change level
Drag - Move car
Icon - Pause/Resume, Return to main menu
Screenshots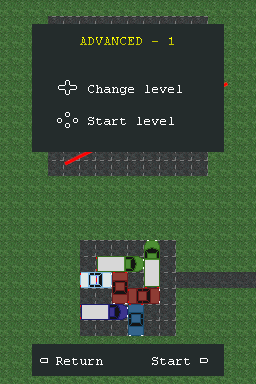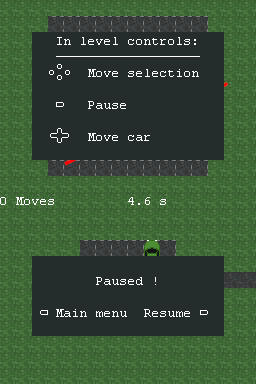 Media
Parkin'Rampage 1st Gameplay (Tim Seidel)

Changelog
2021/01/02 16:00 (CET)
Added (local) high score tracking.
Added sound effects for starting & winning.
Moved music volume into options menu.
New optionsmenu with sound effect volume and key mapping.
Options are now saved for persistence when leaving the options menu.
New diffuculty level "Any" to (randomly) select from all levels.
32 Levels.
2020/12/18 11:00 (CET)
Internal: Added key mapping layer.
Some keys slightly changed. I.e. Up/Down in level select. us of left and right shoulder.
2020/12/15 16:40 (CET)
Fixed a bug restarting moves/time when ending the pause with touch control.
2020/12/14 16:10 (CET)
Made the source available via github.
Added "rainbow" color animation to he text background (used in the won screen).
Fixed a wrong car in Beginner Map 6.
Fixed a graphical glitch on the title screen.
2020/12/13 21:40 (CET)
Tweaked he control a bit. Game is now completely controable via Touch and Keys.
Resume to main menu is now possible from game pause.
2020/12/13 21:10 (CET)
Added more levels. Mainly in advanced and expert difficulty.
2020/12/11 21:20 (CET)
Added the first 3 levels for intermediate difficulty.
Extended touch control, for work in the level selection & rearranged text.
2020/12/11 09:30 (CET)
Added basic touch control.
Added Music Volume setting.
2020/12/09 14:30 (CET)
Reworked main menu to use the 8x16 font background.
Added option to select specific level.
Added new beginner levels (Now 10).
2020/12/08 17:40 (CET)
The pause screen now displays the control pattern on the top screen.
Fixed a bug causing the game time to continue despite of pausing.
Fixed some font artifacts.
Credits
Audio curtsey of The Mod Archive.
Graphics by Might Max.
External links