Paddle DS
From GameBrew
Paddle DS
General
Author
Quipeace
Last Updated
2009/06/20
Type
Arcade Games
Version
0.3
License
Mixed
Links
Download
Website
Paddle DS is a homebrew reflexion game similar to Tennis.
User guide
This is the classic Pong but with more difficulty. Keep the ball passes through the middle of the two signals and that the ball does not sink to the ground.
The goal is to gain as many points as you possibly can by bouncing a ball trough a little gate (in the form of two arrows in a box).
Controls
Stylus - Select, Move
L/R - Pause
Screenshots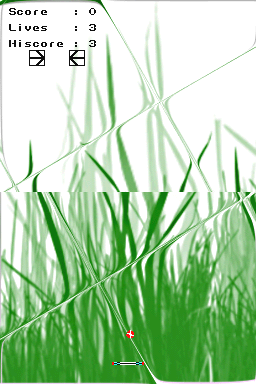 Changelog
v0.3
Hiscores & Basic settings are working.
Can now pause the game by pressing the shoulder buttons.
v0.2
Further optimized code, now using structs.
Complete graphical overhaul.
The Ball now collides with the goals.
Ball will keep bouncing on the paddle, to prevent cheating.
v0.1
Cleaned up sourcecode, now featuring pointers.
Added score system and increasing difficulty.
Optimized collision, still no collision with the goal though.
External links