Oil Panic DS
From GameBrew - a wiki dedicated to Video Game Homebrew.
Oil Panic DS
General
Author(s)
Mia
Type
Platform Handheld
Version
0.2
Licence
Mixed
Links
Download
Website

Oil Panic DS is a simulator of the Game & Watch Oil Panic.
User guide
Gameplay
The scene takes place in a gas station, as an oil leak from a pipe on the third floor is causing confusion.
Move Station Helper left and right to catch the leaks in his bucket.
Helper's bucket holds three drops. Move Helper out to veranda to pour the oil into the Boss's oil drum on the second floor.
Be careful not to drop oil on the waiting customers.
The upper screen is a zoom-up of the third floor of the gas station where Helper is. All three floors of the gas station appear on lower screen.
Scoring
There is no Chance Time Mode when reaching 300 points, like in the original game.
Catch a drop +1 point.
Pour a drop +1 point.
Pour two drops at once +2 points.
Pour three drops at once +5 points.
Miss
Upper screen:
Helper fails to catch oil drops +1 miss.
Helper's bucket is full and he tries to catch another drop +1 miss.
Lower screen:
Oil spills on customers +1 miss.
When the number of misses on either the upper or lower screen reaches 3, the game is over.
Controls
A - Start game A
B - Start game B
Left/Y - Move left, Pour left
Right/A - Move right, Pour right
Start - Restart level
Screenshots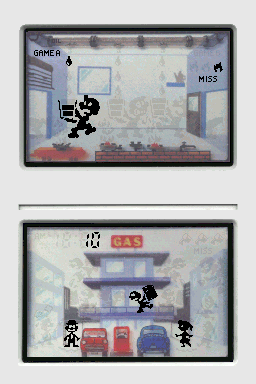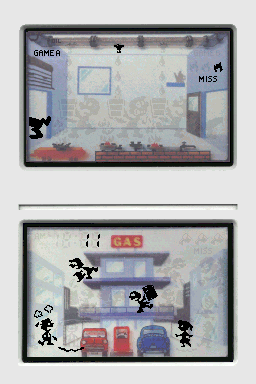 Changelog
Version 0.2
Switched off "sprites" are slightly visible, like on the original LCD display.
Game A and Game B are two distinct difficulty settings. Game B was the single level of version 0.1. Game A is of course easier.
External links