Natura No Story
From GameBrew - a wiki dedicated to Video Game Homebrew.
Natura No Story
General
Author(s)
Morukutsu
Type
Platform
Version
Demo
Licence
Mixed
Links
Download
Website

Natura No Story is a DS homebrew platform game with original graphics and a dynamic gameplay. In this demo version, the first 8 levels are included.
It was presented in the NEO Spring Coding Compo 2009, placed 4th under Game section. It was entered in the 2009 best DS homebrew contest.
Installation
The homebrew comes with 3 version:
Slot-1 Linkers Version.
Slot-2 Linkers Version.
Emulator Version with unlocked levels.
Please use the right version corresponding to your hardware then copy it on your linker.
Note: If you can't go to the second level on slot-2 linkers, use the emulator version instead.
User guide
Natura no Story is a platform game with sword fighting and a lot of possible movements such as the ability to grab hold of or jump against walls.
You lead a guy who will do everything to avoid a war between his people and their rivals.
Controls
A - Attack, Combo (press repeatly)
B - Jump
Up+A (then release A) - Special attack
You can run and attack or jump and attack.
Screenshots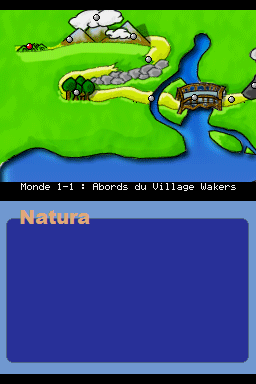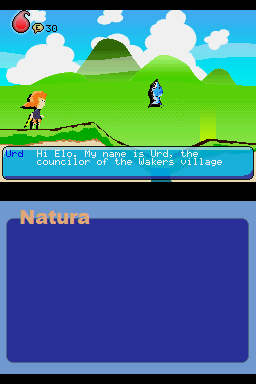 Media
Natura No Story WIP (MorukutsuSan)

Natura No Story WIP 2 (MorukutsuSan)

Compatibility
Tested on M3 Sakura Real (firmware 1.34).
Credits
Code & GFX: Morukutsu
Musics: Archilolo, Zoglu, Skinnix
Specials Thanks: #dev-fr, Blash, Mony, Smealum, Box2D and the others.
External links