Mines
From GameBrew - a wiki dedicated to Video Game Homebrew.
Mines
General
Author(s)
David Rorex (davr)
Type
Puzzle
Version
Demo
Licence
Mixed
Links
Download
Website

Mines is a basic Minesweeper clones for the NDS.
User guide
Tap a square to reveal. Press and drag away from a square to place a flag on it.
Everytime you clear all mines, the number of mines increases (gets harder).
Controls
Operate with Stylus.
Screenshots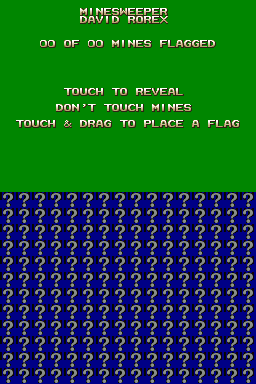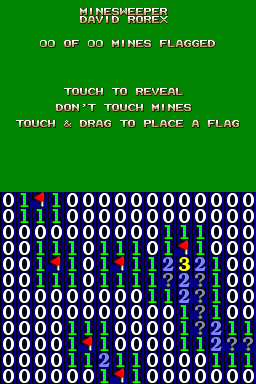 Changelog
Update 4
Update 3.1
A weird touch screen bug can't be tracked down, but while using debug code to try and trace out touch screen values, the bug disappears, so will be leaving the debug code in for now (but make it not display anything).
Update 3
Added a title-screen, now using the irq/interupt code from ndslib (hopefully it will work on hardware).
Update 2
Can actually win now, takes you to next, harder level.
Can place flags where you think mines are.
On-screen instructions.
Uses aPLib for compression, to reduce size by almost 50% (goes from 80KB to 40KB).
Update
Put in own graphics, after banging on it for about 2 hours to get it to convert & display correctly.
External links