Mind reader PSP
From GameBrew
Mind reader
General
Author
walook
Last Updated
2011/05/28
Type
Other Games
Version
2011
License
Mixed
Links
Download
Website
Mind Reader is a homebrew game that can read your mind through numbers. It is made by walook based on a math trick.
This was submitted to the PSP Genesis Competition 2011.
User guide
Pick an integer number Between 1 and 99. For example, 67.
Subtract from this number each of the two digits that make it. Using the example it would be: 67-6-7=54
Then look at the table: Each symbol corresponds to a number. Find the symbol corresponding to yours and let the PSP read your mind.
Controls
Cross - See the table
Screenshots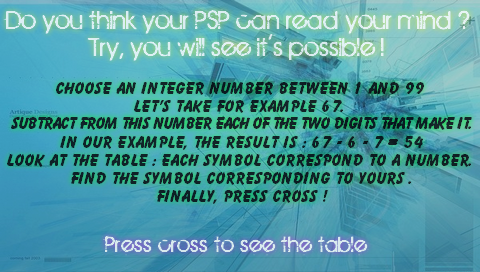 External links