Meteo Avi-2-GBA
From GameBrew
Meteo Avi-2-GBA
General
Author
Inside-Cap, AIR Pocket Project (Translated by Mike Haggar)
Last Updated
2004/01/02
Type
Media players
Version
1.4
License
Mixed
Links
Download
Website
METEO is a data converter for converting movies that can be played on WindowsMediaPlayer (MPG, MPEG and AVI) to .GBA movie files using METEO video codec (COMET). The program is sometimes referred to as Avi-2-GBA.
You can generate a ROM image for GBA equipped with COMET player from an arbitrarily specified movie file, and play the movie with a GBA emulator or the like.
Note: This program requires Direct X 8.1+ to use.
User guide
Download contains:
Avi-2-GBA V1.4 - English translated version by Mike Haggar.
METEO V1.3.1 - Chinese translated version by ostrich (+CalcMeteo that can calculate the optimal bitrate and the size of the resulting movies).
METEO V1.3.1 - Last official version by Inside-Cap/AIR Pocket Project.
Menu options
METEO allows users to specify a movie of any size as the source, but if the output data is too large, it will not play on the GBA.
Files:
Video file - File must be an AVI or MPEG1 video playable in Windows Media Player.
GBA ROM file - Any rom name you like, end with .gba.
ROM Name - Choose something descriptive if you use a menu loader.
Bitrate:
Higher value = higher quality = bigger filesize. Around 100 gives a very nice quality, 40 average, 20 very compressed.
Set the framerate to automatic for low bitrates. But for the highest possible compression you need to set the frame rate manually.
Picture Settings:
No Trim - Adds black bars to sides/top and bottom if video isn't 2:3 ratio. Good for regular TV sized 4:3 videos.
Trim - Does not add black bars but cuts the sides or top/bottom if video isnt 2:3 ratio. Good for widescreen 16:9 videos.
Resize and ignore aspect ratio - Stretches the video to fill the screen and ignores aspect ratio.
Manual Setting:
Manual Trim + Keep ratio - First crops off the value you give and then crops off more if needed to get 2:3 ratio without stretching the image.
Manual Resize - Lets you choose exactly how much of the image to crop. After cropping the video is stretched to the aspect ratio of the values given in Resize, default 240x160.
Frame rate:
Higher rate = smoother playback but bigger filesize and worse image quality.
Don't set the frame rate to more than half of the compression value.
If you use Original, note that the GBA can't keep up very well with framerates over 24 FPS and will lag noticeable when it gets up to 30 FPS.
Pre-filter:
Filters the video before encoding. Default is 4 times resample which should be fine for most videos.
None - Fast, not very good, depends on source.
15bit - Improves quality with low compression rate.
2 times resample - High quality dithering, makes color gradation smoother but can make details grainy.
4 times resample - Even higher quality dithering, best choice for keeping file size down.
Recommended settings
Below are some recommended settings (by Sterophonick).
Great quality - This is the best way to view trailers and clips, but only allows one on a 256 MBit cartridge.
Bitrate: 60.
Framerate: 15 fps.
Settings: No trim, manual resize 240x160, 4x dither.
Average maximum amount of minutes: 8 minutes.
Nice quality - These settings are best to store multiple trailers and clips, yet still having very nice quality.
Bitrate: 28.
Framerate: 12 fps.
Settings: No trim, manual resize 216x144, 4x dither.
Average maximum amount of minutes: 15 minutes.
Lesser quality: These settings can hold most episodes, and still looking great for such a long movie
Bitrate: 12.
Framerate: 7.5 fps.
Settings: No trim, manual resize 204x136, 4x dither.
Average maximum amount of minutes: 25 minutes.
Compression quality: The longest recording time with still acceptable video
Bitrate: 8.
Framerate: 6 fps.
Settings: No trim, manual resize 192x128, 4x dither.
Average maximum amount of minutes: 31 minutes.
Controls
B - Replay
Screenshots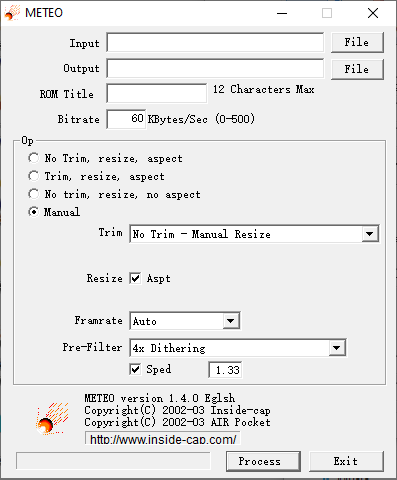 Changelog
v1.3.1 2003/01/30
Careless mistake correction.
Fix image enlargement and upsampling.
v1.3.0 2003/01/30
Fixed the noise at the end of the audio when the frame rate is extremely lowered.
Recreated the configuration of automatic settings.
Pre-filter can be switched.
v1.2.2 2003/01/21
Lowest process priority during conversion.
v1.2.1a, v1.2.1b, v1.2.1c 2003/01/20
v1.2.1 2003/01/20
Properly interrupted processing of encoding (or rather, it was perfunctory until now).
v1.2.0 2003/01/15
Since the DivX filter does not return the frame rate, it is handled by obtaining it independently.
v1.1.3 2003/01/09
Added version information dialog
v1.1.2 2002/12/31
Fixed a misunderstanding around the MediaType support function.
Added an access key to the dialog.
Fixed the % display not being updated immediately after starting.
Slightly more detailed error reporting.
v1.1.1 2002/12/29
Fixed the normalize function not working correctly in most cases.
Added a progress bar so that the percentage of progress is displayed in the title bar.
When browsing files, the same folder as the currently displayed file is opened.
You can now drag and drop files in the file name input box.
v1.1.0 2002/12/27
Fixed specifying the compressed data rate did not work (or rather, a large-scale rework).
Added audio normalization function (currently fixed at 100% (=maximize volume)).
Progress percentage display (%) supported.
v1.0.0 2002/12/20
External links