Maze of Apocrypha
From GameBrew - a wiki dedicated to Video Game Homebrew.
Maze of Apocrypha
General
Author(s)
GugloPWN
Type
Adventure
Version
2010
Licence
Mixed
Links
Download
Website

Maze of Apocrypha is a first person mazes adventure puzzle game in 3D for the Nintendo DS.
This homebrew was presented in the annual competition Drunken Coders 2010, ranked 1st.
User guide
"I have told you many times do not enter the labyrinth. It is a bad and dangerous place. Do not listen to rumors of the treasure. The treasure already has an owner..."
Enter a giant maze and explore the mysterious corridors.
Controls
D-Pad - Move
Select - View message
Screenshots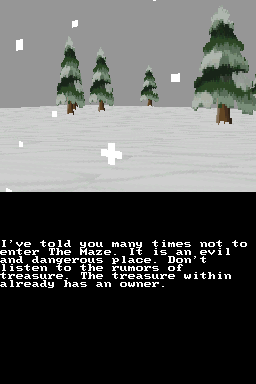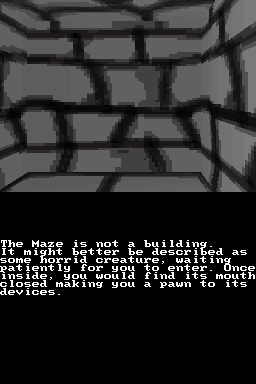 Media
Maze of Apocrypha DS Homebrew (GugloPWN)

Compatibility
Tested on:
DSTT/TTDS (firmware 1.17a12)
CycloDS iEvolution (firmware 2.2)

External links