Maouss DS
From GameBrew - a wiki dedicated to Video Game Homebrew.
Maouss DS
General
Author(s)
Kukulcan
Type
Puzzle
Version
140808
Licence
Mixed
Links
Download
Website

Maouss DS is a DS homebrew puzzle game with a space theme. It is based on the original concept on AMSTRAD CPC computer, Le Tout Rikiki, Maousse Costo, published in Amstrad 100% (Number 42 - February/March 1992 and Number 43 - April/May 1992) which had only 21 levels.
This homebrew was part of the NEO Summer Coding Compo 2008 and in the 8th position.
Features
5 planets of 11 levels each:

Planet 1 - CPC.
Planet 2 - LOBO.
Planet 3 - LOGON.
Planet 4 - POUM.
Planet 5 - REPPA.
User guide
Gameplay
Your goal is to destroy all the stars on the level. In the top screen, there is a maze with a spaceship and stars. The bottom screen has touch screen controls, the level number and the number of stars. You will be able to control the spaceship and a square:
Spaceship - Stop on all obstacles except the stars. Destory stars.
Square - Stop on all obstacles.
Walkthrough
Solution for level 1:
Square - Right, Down.
Ship - Right, Up (Star 1).
Square - Up, Left.
Ship - Down, Left, Up (Star 2), Down (Star 3).
Controls
Start - Exit
D-Pad or Stylus - Move spaceship
A/B/X/Y or Stylus - Move square
R - Music on/off
L - Restart level
Screnshots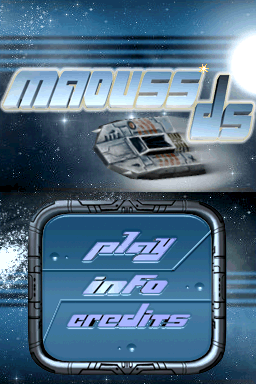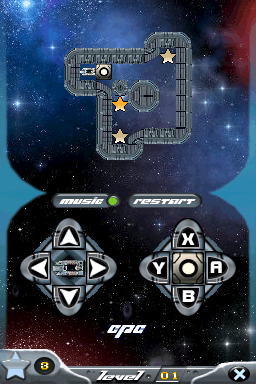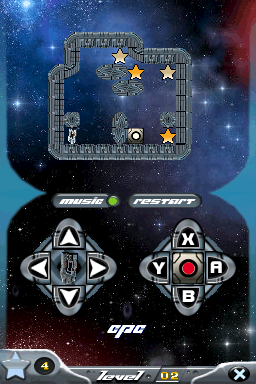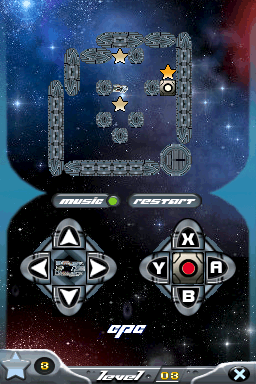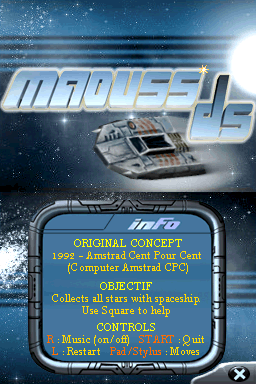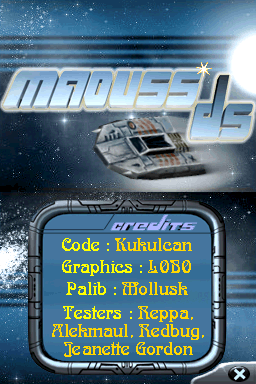 External links