Lode Runner Return
From GameBrew - a wiki dedicated to Video Game Homebrew.
LodeRunner Return
General
Author(s)
Alekmaul
Type
Arcade
Version
1.0
Licence
Mixed
Links
Download
Website

Lode Runner Return is a DS homebrew game based on the old school platform game, Lode Runner. The original Lode Runner was a 1983 platform game, first published by Brøderbund. There are 150 levels in the game which progressively challenge players' problem-solving abilities or reaction times.
Lode Runner Return is an entry for the NEO Coding Compo 2010.
Features
150 levels x 2 game types, so you have 300 levels.
2 different speeds (easy/difficult).
Original music from arcade version.
Original graphics from Apple II version.
User guide
The Bungeling Empire has confiscated gold chests. It's up to you to rescue them.
In this game, you control a stick figure and must collect all the gold in a level while avoiding guards who try to catch you.
After collecting all the gold, you need to escape by reaching the top of the highest ladder.
You have the ability to dig the bricks located on the ground around them, this is sometimes required to collect the gold.
Finally, if you find yourself in a situation where you can no longer move, you lose (for example, if your character is surrounded by two walls preventing you from digging or moving, while there is no ladder), however your character will not suffer damages from falls.
Controls
Start - Pause the game
Select - Nothing
A/Y - Dig right
B/X - Dig left
X - Quit game (during pause)
Y - Restart level (during pause)
D-Pad - Move the character
Screenshots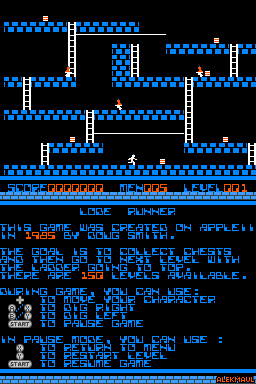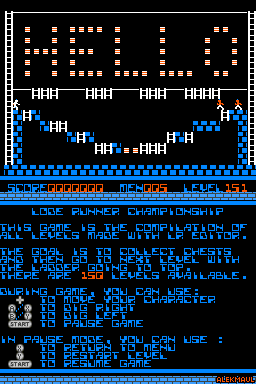 Media
Lode Runner Return V1.0 (alekmaul2009)

Known issues
It does not work with emulator, use the LRReturn_foremu.nds version.
Changelog
V1.0 2010/08/12
Credits
Fabien GIGANTE for level ripping (levels are taken from his Java version).
Zeblackos for menu design.
Douglas E. Smith and Broderbund for the AppleII version.
External links