Lights Off!
From GameBrew - a wiki dedicated to Video Game Homebrew.
Lights Off!
General
Author(s)
ArrPirate
Type
Puzzle
Version
2009
Licence
Mixed
Links
Download
Website

Lights Off! is a remake of the puzzle game Lights Out on the NDS, with several variants built in.
This homebrew was presented to the NEO Summer Coding Compo 2009, ranked 10th under Game section.
User guide
You can change variants by using the sliders to the right of the game board and play the game by trying to turn off all of the lights.
Click on a button to toggle between its different light settings. For instance, in the most basic mode, this is a simple on/off action, but in the more advanced variants there are multiple light states.
Not only that, but the lights to either side of it as well as above and below it toggle as well.
In the most basic mode a simple strategy is to click directly below the lights that are on, starting at the top and moving to the bottom. Repeat as necessary until you solve the puzzle.
You may have to click on random buttons up at the top of the screen if you run out of lights using this strategy.
Screenshots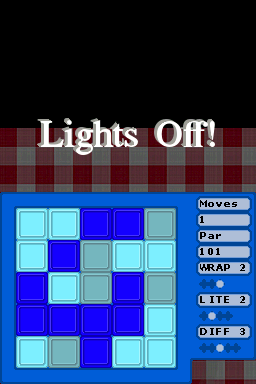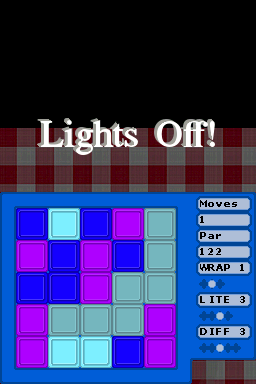 External links