Krystals DS
From GameBrew - a wiki dedicated to Video Game Homebrew.
Krystals DS
General
Author
NightFox (knightfox75)
Last Updated
2014/04/13
Type
Puzzle
Version
20140413 final
License
Mixed
Links
Download
Website
Source

Krystals DS is the revision of NightFox's Colors, the first game written by NightFox for the Nintendo DS in 2008. The game has been rewritten from scratch, with new music and backgrounds, using NightFox's Lib to overcome several bugs and to improve compatibility with more recent flashcards.
It was participated in the Neo Coding Compo 2013 and ranked 3rd.
User guide
The main objective of the game is to create groups of 3 or more gems of the same color in any direction. A greater number of stones removed in the same movement, more score.
Your mission is to get as many points as possible before reaching the last level of the game (25). After the game, the score will receive bonuses for the level achieved, the maximum combo made and if you've reached the last level of the game.
Use the special gems to make better combos. The diamond-shaped gems, change the color of the gems touched by his. If a diamond-shaped gem touches the ground, all the gems change color randomly.
The white gems are also special. If a white gem touches itself to any other gem, all gems of that color will be eliminated. If a white gem touches the ground, the elimination of all the gems from the board.
A new feature has also been added in this remake version where there will never be a token with two gems of the same color, making it more difficult to carry out combos.
Controls
Left/Right - Move to the left/right
R/L - Fast move right/left
Down - Drop
B/X - Fast drop
Up/A/Y - Change Color Order
Start or Close lid - Pause
Select - Give Up
Screenshots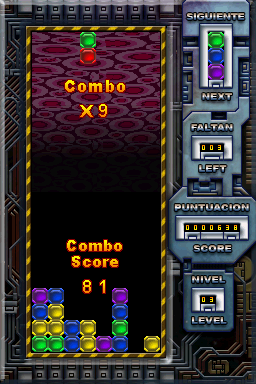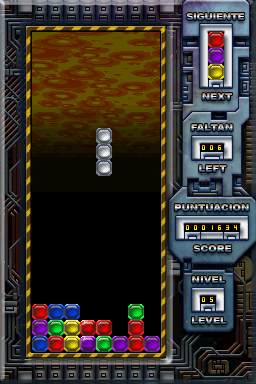 Media
NDS Krystals DS gameplay (Cesar Rincon Nadal)

Compatibility
You can play it on a DS emulator for PC, like No$gba or DeSmuME.
Changelog
Version 20140413
Recompiled with lastest version of nflib and devkitPro.
Final release.
Version 20130921
Slow down a little max speed to make game easier beyond Lv15.
Fixed but that causes gems floats in the mid of the air if you move it just in the autodrop frame.
Version 20130829
Added sparkle effect on gems.
Version 20130823
Totaly rewrited all routines of gem elimination. This will bugfix some extrange cases and improve stability.
Version 20130820
Added some DC_FlushRange(); to ensure data is write down from cache to ram before use it. Hope this help to prevent random board corruption on real hardware (It never happends on emulators).
Modified score parameters.
External links