Kenny Adventures
From GameBrew - a wiki dedicated to Video Game Homebrew.
Kenny Adventures
General
Author(s)
Froskito
Type
Platform
Version
2.0
Licence
Mixed
Links
Download
Website

Kenny Adventures (Spanish) is a DS homebrew platform game based in the South Park world. This homebrew features Kenny, a character in this animated television series, who always ends up dying for whatever reasons.
There are 4 levels with a final boss.
User guide
Control Kenny to pass the rigorous levels, jumping from cliff to cliff to avoid falling into the flames of temptation.
Controls
Left/Right - Move back and forth
A - Jump
R - Take all life from the final boss
Extras:
L+R+Start - Secret level (only works while in level 1)
L+R+Select - 999 lives
Screenshots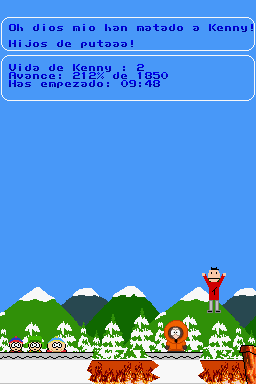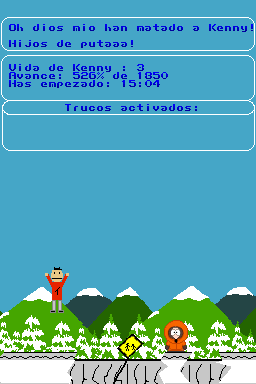 Compatibility
Tested on:
R4 PRO (firmware 1.51)
NDSTT/Top Toy DS (unofficial firmware 1.17a12)

Changelog
Version 2.0
Added title screen so you don't start the game directly.
Added music (It sounds perfectly).
When you fall, the typical phrase sounds "Good God they killed Kenny! Son of a bitch!"
Separate levels with different Backgrounds and different backgrounds.
Added 4 more levels.
Fight Satan (Final Boss).
Improved some graphics.
Added tricks.
Fixed Game Over, now goes to level 1 when you press A.
External links