International Karate
From GameBrew
International Karate
General
Author
MRSID
Last Updated
2007/01/06
Type
Action
Version
Final
License
Mixed
Links
Download
Website
International Karate is a DS homebrew fighting game. This is a clone of the classic action game on the System 3 Commodore 64, which also made appearances on the ZX Spectrum, Amstrad CPC, and Atari ST.
This homebrew was participated in the 2009 best DS homebrew contest.
User guide
The objective is to defeat opponents and rank up while achieving the highest score depends on how you take the blow, the judge will decide if you get half or a full point.
If you can get hold of the opponent and not give truce, you will be awarded with bonus points. It also contains extra stage where you can attempt to break as many bricks as possible within the time limit.
To start the battle, press Start. If you don't press Start, the game will show you a demo battle just like an arcade game.
Controls
Without pressing A/B:
Up - Jump
Down - Foot sweep
Left - Walk backwords
Right - Move forward
Up+Right - Front lunge punch
Up+Left - Back lunge punch
Down+Right - Chest kick
Down+Left - Crouch punch
Start - Start/restart the fight
L - Control guide on bottom screen
When A/B is pressed:
Up - Flying kick
Down - Low punch in the opposite direction
Right - Front Kick
Left - High spinning kick
Up+Right - Somersault forward
Up+Left - Back flip
Down+Right - Back side kick
Down+Left - Front side kick
Screenshots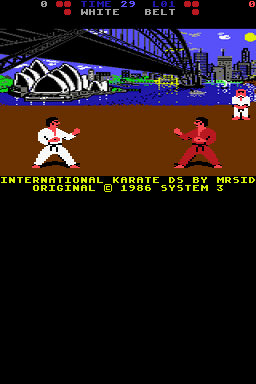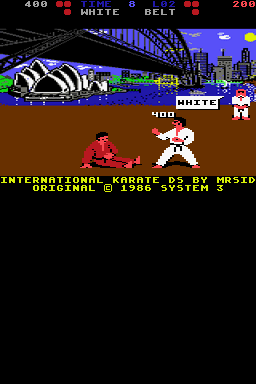 Media
International Karate on the Nintendo DS (mrsid6581)

Compatibility
Tested on iPlayer (OS 1.2 firmware 1.0.6).
External links