Hoola DS
From GameBrew - a wiki dedicated to Video Game Homebrew.
Hoola DS
General
Author(s)
Ryu Seung-Ryul
Type
Card
Version
1.1
Licence
Mixed
Links
Download
Website

Hoola DS is a homebrew Poker game.
User guide
The deal
Seven cards are dealt if four play. Remaining cards are stacked face down in the centre of the table to form the stack. The top card of this stack is faced up and placed beside the stock to make the discard pile.
Purpose of play
You try to attain a hand of matched sets:
For example, groups of three or four a kin such as 9 of spaces, 9 of diamonds, 9 of clubs, 9 of hearts.
Alternatively, sequences of three or more cards of the same suit such as 9 of diamonds, 10 of diamonds, Jack of diamonds, Queen of diamonds.
In a sequence, an ace is considered a low card.
However, 7 card is available run alone.
After run or group, you can add one card to sequences of three cards or 7 card.
The play
The player seated to the left hand of the dealer begins by drawing one card - either the top card of the stack or the top card of the discard pile and adds it to his hand.
Each player does the same. Each one must then lay down on the table, face up, any matched srt.
Discard one card, face up, on top of the dispard pile.
If you draw the top card of the discard pile (it is called thank-you) you must register it in the same turn.
In Combat Hoola, any player can do thank-you at occasion that registration is available drawing discard card.
Laying off
You may add one or more matching cards from your hand to any matched set are showing:
Add the fourth three; if 10, 9, 8 of hearts are showing, add Jack of hearts, or Queen and Jack of hearts.
When sum of cards number are below 15, you can stop.
Going out
In this manner, if you get rid of all your cards, you win the game, however:
If all your remaining cards are matched, you may lay them down without discarding on your final turn.
If the last card of the stack has been drawn and no player has gone out or won, the next player in turn has the option of either selecting the top of the discard pile or turning the pile to form a new stack (with shuffling it) and drawing the top card, after with the game proceeds.
Scoring
HOOLA - You win and declare hoola when you get rid of all cards in your hand in one turn, without previously have laid down or laid off any cards. When this happens, all other players pay you 4 times.
NO REG - You pay double if you do not register until winner is declared.
THANK - You pay all of the other charged amount when throw away all cards after other person does thank-you as your discard card.
STOP - You pay double all of the others charged amount if the other player's sum is lower than the sum of your card's number when you stop.
Actions
RUN - Place cards.
GROUP - Make groups of 3 or 4 letters of the same digit.
THROW - Discard the unwanted card.
STOP - Leave the game.
DECK - Draw a card.
Controls
Stylus - Play, Select
Start - Start, Restart
Select - Go to main menu screen (during a game)
Screenshots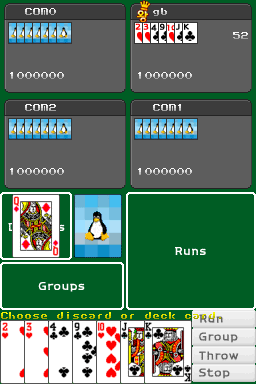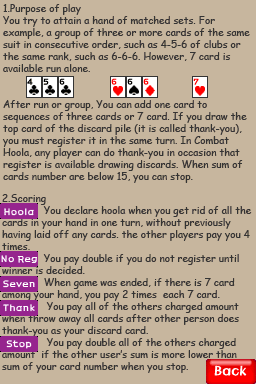 Media
Playing: Hoola DS v1.1 (Traducidor94)

Compatibility
Tested on:
Supercard DS One i Mini (version 1.11)
EDGE (version 2.0)
Blue Gateway (version 1.2) (R4i)
No$GBA (version 2.8)

Changelog
v1.0
Fix a bug which would crash sometimes.
Choice star space, modify the Menu bar select key.
Additional instruction screen.
v0.9
External links