Homer and The Lost Donut
From GameBrew - a wiki dedicated to Video Game Homebrew.
Homer and The Lost Donut
General
Author(s)
Neumann
Type
Puzzle
Version
0.6b
Licence
Mixed
Links
Download
Website

Homer and The Lost Donut (French) is a homebrew maze game based on an American animated sitcom series The Simpsons. This is the first NDS project by Neumann.
User guide
Homer has lost his favorite cake and it's up to you to bring it back to him in one piece...
You have to bring the donut from the upper left corner of each level to the lower right corner. To do this, click on the donut to grab it and bring it to its destination without touching either the edges of the track or the obstacles.
The course is timed and there are 12 levels in total.
Controls
Stylus - Move donut
L/R - Start the next level, Reset game if lose
Screenshots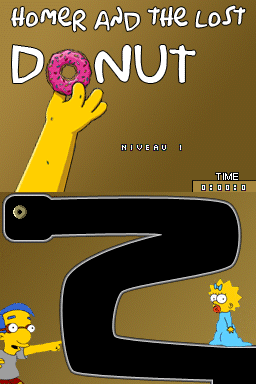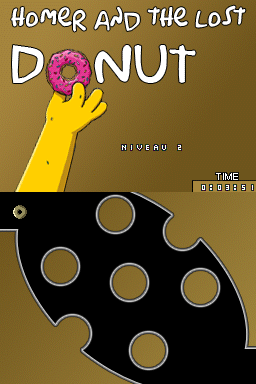 Changelog
v0.6b 2007/07/01
Added credits.
Added level 12.
v0.6 2007/06/09
Fixed bug that allowed you to finish the game by clicking in the lower right corner of the level.
Redesign of all sprites/BG and the title screen.
v0.5c 2007/06/04
Added level 11.
Slight graphic modifications of the levels.
New menu a little more sexy (credits are not yet available).
v0.5b 2007/06/03
Fixed collision bugs occurring around the end of each level.
Fixed display bug when level is completed.
Redesign of level 9 which was relatively ugly.
Improved management of collisions between the donut and the moving bar in level 6.
v0.5 2007/06/02
Added levels 8, 9 and 10.
Fixed the collision bug on the right side of the screen.
Improved the precision of collisions with the scenery.
v0.4 2007/05/28
Added levels 6 and 7.
Fixed the stopwatch display bug.
v0.3b 2007/05/27
Adding the 5th level.
Modification of level 2.
Added smoother transitions between levels.
Now time only scrolls when the donut is grabbed.
v0.3 2007/05/26
Added a timer.
Added moving elements in the levels.
Slight improvement of GFXs.
v0.2 2007/05/23
New policy.
3 levels available (the first has been changed).
v0.1 2007/05/22
Menu operational.
Only the first level (not final) is present.
External links